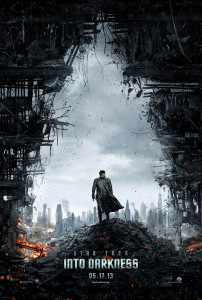 Director:  J.J. Abrams
Writers: 
Roberto Orci, Alex Kurtzman, and Damon Lindelof
Stars: Chris Pine, Zachary Quinto, Zoe Saldana, Benedict Cumberbatch, and Alice Eve
Before I begin this review, let me start off by saying that I had little faith in this sequel. In fact, this film didn't even make my Top 5 Most Anticipated Summer Movies of 2013. Now that I've seen the film, I now feel guilty for ever doubting J.J. Abrams. This is the movie that proves he is a powerhouse director and you will not forget it. Seriously, it should be illegal to have this much fun in a movie. Star Trek Into Darkness is finally here and it is a blast!
Now, instead of giving you just a by-the-numbers movie review, I'm going to shake things up a bit by listing the 5 reasons why this film is a must-see.
1. A Much Better Villain
One of the weakest aspects of the first movie was the lack of a strong villain. Eric Bana did a decent job as the Romulan Nero in the 2009 film and his character worked well for the reintroduction story. However, the film suffered from not having a strong threat against the enterprise crew due to the focus of rebooting the characters. Most people– including myself– didn't mind the issue because Abrams kept the energy popping every second. This time, the crew has a relevant opponent and he is a badass. Benedict Cumberbatch's role of John Harrison is fierce and enthralling. Every word he speaks is calculated and executed with dark aggression. I absolutely loved every second of screen-time his character was given.
2. Every Character Has A Moment Of Glory
One of the best things to see from any movie is love for its characters. You can tell that Abrams and the writers have a deep affection for these people and it shows through the various dynamics in the film. Not a single character is neglected or left out of the spotlight. Every one of them has their own personal moment to shine. It reminds me of how Joss Whedon brought so much love for the mythology in last year's The Avengers.
3. Non-Stop Action
Seriously, this Star Trek entry never lets up. The minute the film starts you are thrown back into the adventure. In fact, there is probably only 4 minutes of the film where you're not involved in either a conflict or laughing your ass off. The action is snappy and moment-to-moment and it is some of the most impressive work from Abrams to date.
4. Warp-Speed Chase Sequence
First off, let me be clear, this is NOT a spoiler. In no way can the words from this review spoil this sequence for you because the actual experience is too epic for words. Watching this in IMAX 3D was indescribable and I cannot wait to revisit this scene once again. This is one of the moments where it became crystal clear why Abrams was chosen for the next Star Wars trilogy. My head almost exploded from the level of awesomeness this segment delivered.
5. Get Ready for Klingons!
Even though their presence is small in the movie, what we do get to see is pretty cool. It's easy to predict that these guys could be potential villains in a third film. I'll be honest and say I have little knowledge of what the Klingons were like in the old universe, but here they come across as ruthless soldiers with little mercy. All sense of safety flies out the window once they enter the picture. I'm hoping we haven't seen the last of these guys.
Just to give some final thoughts about this movie, do not be fooled by the title. Star Trek Into Darkness is not a dark movie. There is a reason for the title but it's not a statement towards the movie's tone. Yes, there are dark elements within the story, but the same can be said about the 2009 film. So do not expect a bleak entry for the Star Trek franchise.
I know I'm saying so many positive things and not enough criticism about this follow-up, but in my personal opinion, nitpicking a movie with this much entertainment is downright criminal. If you find yourself looking or searching for flaws, just remember the quote from Gladiator… "Are you not entertained?" Yes, the film has issues but why bother looking at the glass half empty when so much is done right. J. J. Abrams has once again delivered an explosive nostalgic piece of entertainment that will have you begging for more once the credits roll. This is the most fun I've had at the movies this year and I cannot wait to see it again on the largest screen possible.