Today has felt like Christmas with how many gift wrapped posters we have received online today. Not too surprising though considering the Summer movie season has officially kicked off.
First one up comes from James Mangold's twitter where he reveals a new poster for The Wolverine one-sheet with Silver Samurai. The second and third posters come from Edgar Wright's twitter where he teases the bad guys from The World's End. It's also mentioned that the first trailer for that movie will go live Wednesday. The final poster is provided by the Man of Steel twitter account revealing a prestigious Henry Cavill in his costume.
Check out the latest movie posters below! Click images for bigger view.
The Wolverine
The World's End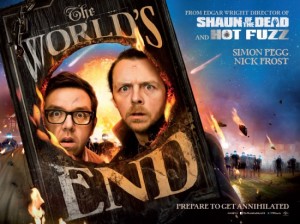 Man of Steel
My favorite by far is The World's End because of the Edgar Wright nature of the advertisement.
Great food. Fine Ales. Total Annihilation.
One word… Awesome!
Which one of these latest movie posters is your favorite?
Source: James Mangold, Edgar Wright, Man of Steel