The Amazing Spider-Man 2 recently began shooting and much like any major film release, leaked photos are beginning to  hit the web. The first batch of photos are the juiciest as we get to see Jamie Foxx in full Electro mode.The Jamie Foxx Electro costume is an eyebrow raiser for sure. I'm not sure what I was expecting but this wasn't it. However, that's not a bad thing. If anything, it sends my curiosity through the roof.
The photos were taken while filming a scene at Times Square. As you can see, this is a Jame Foxx we have never seen before. Click images for a closer look.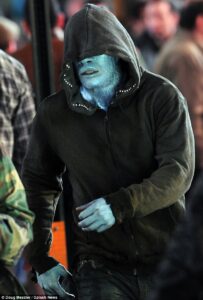 Talking about his character, Foxx says "I'm going to keep it close to the chest but I followed the Spider-Man comic books, and I would watch the television show growing up. It's a blessing.'
Sounds like Foxx is going to have a blast playing this role. As far as I know , he's never tackled a bad guy before, so this should end up as a good challenge for him.
In the comics, Maxwell Dillon aka Electro, was a villain who gained the power to control electricity, due to a freak lightning accident while repairing a power line.
The Amazing Spider-Man 2 is set to hit theaters May 2nd, 2014! What do you think of the Jamie Foxx Electro photos?
Source: Daily Mail