Yesterday, we brought you the news that the upcoming Suicide Squad movie was going to use Antiphon and Onslaught as the bad guys for the villains of the movie to fight. With all the characters in the movie so far, the best one of all has hardly been mentioned.
Deathstroke is going to be in the Suicide Squad movie.
Fans of Arrow have gotten a good taste of what Deathstroke is all about – a mercenary who is deadly and very capable of making everyone's life a living hell. Of course, Warner Bros. has made it clear that the movie universe they are building will remain completely separate from the TV show's worlds, so Deathstroke will be different here, but expect his character to remain close in nature.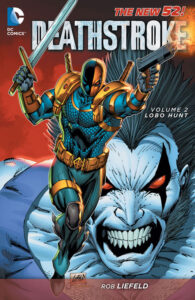 According to Cinema Blend, sources close to the production of the Suicide Squad movie have said that Joe Manganiello (True Blood) is close to signing on for the role of Deathstroke. Manganiello has a history with director David Ayer, as the two worked together on the Arnold Schwarzenegger movie Sabotage. Jason Clarke (Zero Dark Thirty) was also up for the role, but it looks like it is Manganiello's to lose.
Will Smith is playing Deadshot and Margot Robbie is playing Harley Quinn as the two lead hero-villains in the movie. Jared Leto is supposed to be a major character in smaller roles as The Joker. As for Deathstroke, the rumors are that he will simply serve as the bodyguard for Amanda Waller (Viola Davis), but expect him to play a bigger role in the DC Comics universe as it expands because Deathstroke is too great of a character to simply ignore.
Are you excited to see Deathstroke on the big screen? Is Joe Manganiello a good choice to play the villain? Chime in with your thoughts in the comment section below.
Source: Cinema Blend