The CW is about to launch a new TV show based on the comic book series iZombie and there are a couple of things going for it. First, it is a more comic look at the comic book adaptations, which puts it up there with Flash as something that doesn't take itself too seriously. Second, it is created by Rob Thomas, the guy who brought us Veronica Mars.
Anyway, the iZombie comic book itself is about a girl named Gwen who just happens to be dead and came back as a zombie. However, she can pass as a human with the one problem being that she has to eat a brain at least once a month in order to keep her memories and sanity. When she eats a brain, she gains the deceased person's thoughts.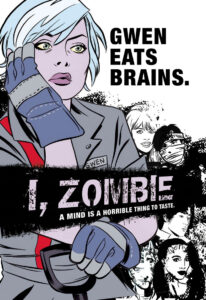 The entire comic series is darkly funny and there are hopes that the TV show will keep that humor as well. Well, the CW just released a couple of clips from the new iZombie TV show and it looks like they are going for the humor, but in these short clips, it really doesn't work without some context.
It also shows that the iZombie TV show is going more for the police procedural style. It isn't clear if the entire monster mythos from the comics will appear on the series, or if they are just sticking with zombies.
I have faith in Rob Thomas, so there is still hope that iZombie will be fun TV. Check out the two new clips and let us know what you think in the comments below.
https://youtu.be/Ydm-hgYMT_Q
https://youtu.be/viv8YooQUQ8