It's here! The day all horror hounds live for, Halloween! Before donning my fangs and heading out for some spooky shenanigans, I want to leave my list for top flicks for a fiendish night in. Whether you are looking for thrills and chills or a few fun flicks to watch with the kiddies, I'm here to deliver. Here are 5 fun films for adults and 5 for the kids (or those weak of heart)  to fill your All Hallow's Eve!
Top 5 Halloween Flicks for Kids
Honestly, picking 5 wasn't easy, there are many fantastic flicks that fit into the Halloween spirit! Hopefully these few will help amp up your holiday fun!
5. When Good Ghouls Go Bad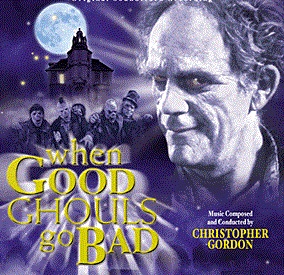 Based on a story by R.L. Stein, When Good Ghouls Go Bad is the story of the small town of Walker Falls, who have sworn to never again celebrate Halloween. Why? Because of a promised cursed that should fall upon them if they ever do! The home of the Walker family, and once the Walker Chocolate Factory, which employed most of the town; Walker Falls has become a town held down under a fog of fear. In October of 1981, a young boy named Curtis Danko met an unfortunate fate while working on a statue of his hero for the local art competition. Curtis was a peculiar boy (much like most of us fiends for all things dark and mysterious). An outcast by most, he was the target of a cruel prank, a prank that went terribly awry; causing him to lose his life. Locked in the art room kiln which was accidentally turned on, all that remained when he was found was the statue of his hero, said to be so evil that the only one to have set eyes on it was blinded for 3 days, and a warning,"If you ever have another Halloween again, I will return and destroy you all!"
But like most good stories, things in Walker Falls aren't what they seem, and the truth is truly magical. Starring Joe Pichler, Tom Amandes, and (one of my all time favorites) Christopher Lloyd, When Good Ghouls Go Bad is a fun film that truly captures that Halloween feel. A little bit scary, but nothing that most over the age of 7 or 8 couldn't handle.
4. The Worst Witch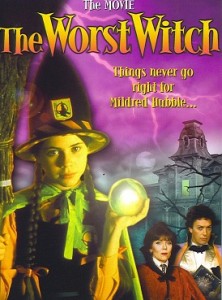 Okay, I admit it, it's all about nostalgia on this one. Though dated is not a strong enough word, I still think this flick is still fun for the little ones. Starring a tiny Fairuza Balk as Mildred Hubble, the little witch that can't seem to do anything right. Trouble always seems to find her. Between snobbish students and teachers that seem to have it out for her, she's doing her best just to survive witch boarding school, but when the Grand High Wizard (played by Tim Curry!) comes for a visit on Halloween she finds far more trouble than she can handle. Long before the days of Harry Potter, The Worst Witch was making kids wish for magical powers. As amusing as it is cheesy, The Worst Witch is worth a watch.
3. Halloweentown (The Series)
Delivered by Disney, the first 3 Halloweentown movies are sure to captivate the kiddies with witchy wonders. Who wouldn't want to live in a town where it's Halloween everyday? I know I would. It doesn't keep Gwen Cromwell from hiding their Halloween heritage from her children, who has decided that they should live a normal magic free life in the mortal world (Really?! Why would anyone want to live in a world without magic??!!). But keeping the family secret proves harder than she ever thought when Grandma Cromwell comes for a visit. The Halloweentown movies follow young Marnie Cromwell (played by Kimberly J. Brown) from the time she discovers that she is from a long line of witches as a pre teen to high school; along with her family and their adventures in the magical world of Halloweentown. Rarely is there a year when Disney does not put out some Halloween fare, but the Halloweentown series has been the best of the mini movie bunch. Legendary Actress Debbie Reynolds lends her talent to this series of flicks that serve up loads of Halloween fun. Unfortunately Disney rarely knows when to quit when it comes to sequels, but I whole heartedly recommend the first 3 films for all ages.
2. Hocus Pocus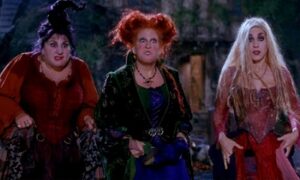 Disney's answer to Halloween on the big screen, this full length flick is a Halloween must. Taking place in Salem, Massachusetts on Halloween night Hocus Pocus is what the Holiday is all about. Omri Katz and a baby Thora Birch play Max and Dani, 2 kids that are forced to battle the forces of evil in the form of the 3 dangerous Sanderson Sisters, witches they accidentally brought back to life. They have until dawn to undo the spell that woke them, or they just might steal the souls from all the children in Salem. With the help of a talking cat named Binx and modern technology, they just might have a chance. Bette Midler, Sarah Jessica Parker & Kathy Nejimy play the wicked foes our heroes must face, with much magical flair. This Fiendish Flick is a fond Halloween tradition in Chez LeRouge, and I'm sure any lover of this haunted holiday.
1. Nightmare Before Christmas
I don't know a soul of any age that doesn't love this fiendish flick that manages to tie in 2 holidays, making it common to see on screens for three months straight. (though we do have to feel a little bad for Thanksgiving, it always seems to get the short end of the drumstick.) Now a holiday classic, Nightmare Before Christmas has become iconic among kids of all ages with macabre little hearts.  Based on a concept by Tim Burton, Writers Caroline Thompson and Michael McDowell brought the beloved characters of this Halloween Town to life, with the help of Director Henry Selick. The music of Danny Elfman must also be given credit for making this movie oh so memorable, with songs that stick in the mind for all time. Jack and Sally are among the most popular Halloween costumes out there, but as characters go Oogie Boogie and Zero will always be this ghoul's faves.
Top 5 Halloween Flicks for Adults
Aside from the far too obvious Halloween slasher series, I have chosen a few of my faves. hope you enjoy them as much as I do!
5. May
A modern day Frankenstein, this flick by horror great Lucky McKee is as ghoulish as it gets. May is the story of a girl that has a hard time making friends, so she decides to 'make' them instead. The words socially inept aren't strong enough to describe the character of May, played by Actress Angela Bettis, who was the perfect pick to portray the lead. The creepiness culminates to all out carnage come Halloween night, after she decides to make the perfect person in a world full of, "so many pretty parts, no pretty wholes". uncomfortably funny, May isn't for the weak of heart, or stomach.
4. Idle Hands
Falling under horror comedy, Idle Hands is full of Halloween hilarity. Starring Devon Sawa, Seth Green, Eldon Henson & Jessica Alba, Idle Hands proves what can happen if you don't heed the old adage about laziness. First thinking his family a victim of a local serial killer, pothead teen Anton Tobias finds that the truth is a whole lot scarier. He himself is the victim of sinister possession, or at least one of his hands is. Possessed by the spirit of a maniacal murderer, Anton must keep his right hand from killing everyone one he cares about…or at least try to keep the body count down. This proves to be much harder than you'd expect, but then again, you probably aren't as lazy as Anton.
3. Night of the Demons (1988)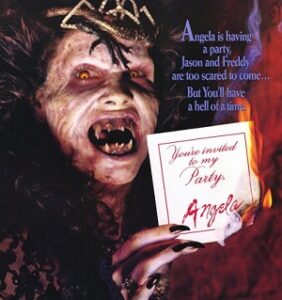 No list of mine would be complete with out a schlocky 80's fright flick, and what more could you want than one set on Halloween night, at a mortuary built on a cursed Indian burial ground under a full moon?! Angela, that kooky goth chick, is throwing a Halloween party that is sure to be a scream to those that are brave enough to venture out to the haunted Hull House, an abandoned funeral parlor said to be home to all sorts of spooks and of course…demons. Getting into the party is easy, getting out alive is a whole other matter. The demonic spirits that haunt Hull House's halls want bodies to possess, and what better bodies than those of the 10 teens stupid enough to party in their pad?
2. Cabin in the Woods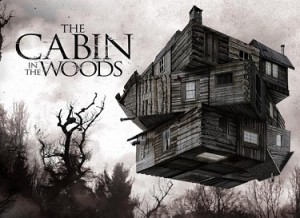 Okay, so it's not set on Halloween, but in combining/paying homage to every horror movie trope in existence, it gets a place on my top 5 list. A true horror treat for any fan of fright flicks, Cabin in the Woods deserves to be a horror classic. I've taken to making it a game to find every reference to classic horror greats. From Hellraiser to Texas Chainsaw Massacre, this movie has it all. Likable characters, humor, gore and loads of rewatch value, this flick instantly became one of my favorite all time flicks. My only complaint? It should have been tentacles. Watch the movie, and you may just agree (if you know your Lovecraftian lore).
1. Trick R Treat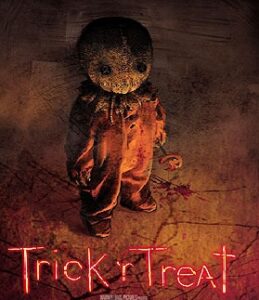 This flick is the true essence of all things Halloween!  Reminding us all to take care to honor the spirit of the holiday, is the spirit himself, Sam (short for Samhain, I'm sure). Deadly and adorable, this character ties together this anthology of stories that happen in a small town on Halloween night. How this flick has escaped the view of so many is a horrifying mystery. Tackling urban legends galore, it is the quintessential fright film to represent All Hallow's Eve. Though I watch this movie year round, it has become a must do tradition to watch this Fiendish Flick on October 31st. It's not just a film favorite, it includes one of the best horror film deaths to date, outside of a Final Destination fatality. Gloriously gruesome, Trick R Treat is number one in my book for all time best Halloween horror watch.
Well that's it for this week my gore lovin' Goblins! May your Halloween be filled with fright, delight, and things that go bump in the night! -Ruby