WWE Monday Night Raw
The Authority open the show. Triple H and Stephanie McMahon are both all smiles and they announce that Daniel Bryan will be out for longer than expected and that Seth Rollins is an A+ player who now holds the Money in the Bank briefcase. They then call out the new WWE World Heavyweight Champion John Cena, who gets booed a lot. Cena said that when Bryan returns, he will give him a title shot. Stephanie then unveils the cover of WWE 2K15, which has John Cena on the cover.
Cena doesn't trust this because he said they are being way too nice. Cena said they have Randy Orton, Kane and Seth Rollins in their back pocket but they don't have him in their back pocket. Triple H makes fun of Cena talking and Cena threatens to beat up Triple H. That is when Triple H said Cena doesn't bother him, but that will only last as long as Cena shows him respect. Triple H said that Cena can do things the easy way or the hard way. Cena said he would rather do things the hard way rather than be Triple H's stooge. Triple H books a Fatal Four Way match (so Cena can lose without getting pinned) with Cena against Randy Orton, Kane and Roman Reigns. Tonight, Cena and Reigns will fight Orton and Kane.
John Cena then takes the time to rub in Stephanie McMahon's face that she swam in a pool of crap last week. Before Cena gets all the way up the ramp, Triple H said that if Cena wins at Battleground, there is always a Plan B and Seth Rollins walks out with his Money in the Bank briefcase.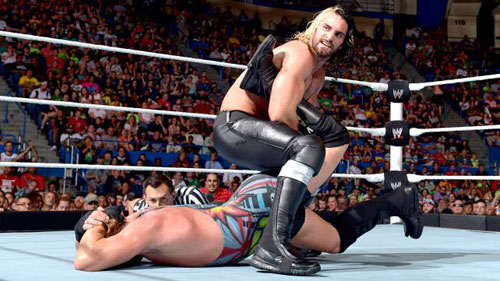 Seth Rollins vs. Rob Van Dam
This is a rematch from last week where Rollins should have pinned RVD until Dean Ambrose ran in and attacked Rollins, causing the disqualification. This was a fantastic match and one of RVD's best since his return. However, Rollins won cleanly with the Curb Stomp. After the match, Renee Young came in to interview Rollins. He interrupted her and told her he should be called "Mr. Money in the Bank" Seth Rollins and that is his golden ticket to win the title anywhere he wants. However, Dean Ambrose came on the big screen and told Rollins that every time he tries to cash the briefcase in, he will be there to ruin it for him. That is a nice storyline.
Winner: Seth Rollins (***)
Rusev and Lana are out next. Lana said that Rusev's last opponent was a failure (Big E) but said that is normal since America is a failure. She then asks who will be America's next great failure. That brings out Jack Swagger and Zeb Colter. Zeb takes the mic and said that he is tired of them coming out every week and slamming their country and he wants Lana to shut up. Zeb said they couldn't go to Russia and say what they want to say, but Lana can use America's freedoms to do so. That is when Zeb said that a Real American can stop Rusev. Who saw this face turn coming? Lana holds back Rusev and the crowd actually starts chanting "Let's Go Swagger" – amazing. Rusev charges and Swagger hits two nice arm drags.
Sheamus and The Usos vs. The Wyatt Family
The live crowd loves this show. They were even chanting "this is awesome" after Sheamus came off the top buckle outside the ring onto Rowan and Harper. There was an awesome moment a few minutes later when Luke Harper actually hit Sheamus outside the ring with the Brogue Kick. After Bray Wyatt knocked Sheamus silly, Bray got the entire audience singing "He's Got the Whole World" for him. The end came after a flurry of action when Luke Harper hit his GIANT clothesline for the win over one of the Usos.
Winners: The Wyatt Family (***)
Nikki Bella was in the middle of a backstage interview where she was asked about Brie Bella being kicked out last night at WWE Money in the Bank. Stephanie McMahon interrupted the interview and said the Bella Twins were booked to face the Funkadactyls. She then remembered that Brie Bell quit (she abandoned you), so it is now a handicap match. After that, a car pulled in and the announcers mention that a WWE legend is coming.
Bo Dallas comes out after the commercial break and asks for 60 seconds of silence for two superstars that can't be there due to injuries – Bad News Barrett and Daniel Bryan. The lights go down and Dallas kneels in the Tebow pose for 60 seconds. After the moment of silence (which lasted forever), he said that last night he was the voice of inspiration and the bigger man. He showed the video from last night and then said people needed to "Not Stop Bo-Lieving."
Nikki Bella vs. Funkadactyls
Cameron is full-on heel in this match. Nikki starts to get the advantage and Naomi tags herself in. Naomi then hits a beautiful flying body press and then a nice inverted DDT styled move to pin Nikki Bella. After the match, Cameron comes in and gets in Naomi's face. She shoves Naomi and turns to leave only to have Naomi shove her back. Referee Charles Robinson separates them. It looks like that marks the end of the Funkadactyls.
Winners: Funkadactyls (*)
Bad News Barrett will be out months with his separated shoulder, meaning he is stripped of the Intercontinental   title. At Battleground there will be a Battle Royal to determine the new Intercontinental Champion.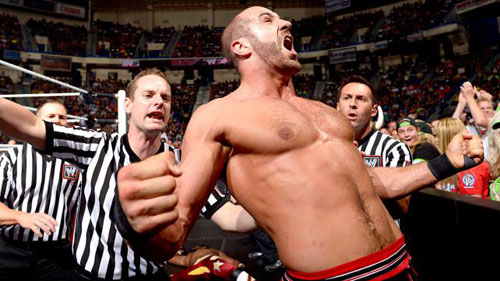 Cesaro vs. Kofi Kingston
Paul Heyman came out first and said that Cesaro is the first entrant in the IC title tournament. There was one point where Cesaro set up for the Big Swing, the fans went nuts, and then Cesaro refused to do it. This was a really good match, but I feel the ending was a mistake for the WWE. Kofi Kingston beat Cesaro DURING THE COMMERCIAL BREAK and was only seen on the WWE App (Kofi reversed out of the Neutralizer and rolled up Cesaro). Cesaro flipped out after the match and just beat the living hell out of Kofi Kingston after the match, throwing him into the steel steps, into the crowd and just destroying him completely.
Winner: Kofi Kingston (** ½)
Damien Sandow vs. Khali
Mr. McMahon's music kicks in and Damien Sandow walks out dressed like Mr. McMahon. He is actually doing a great job of mimicking McMahon and has the McMahon yell down pat. He calls Damien Sandow the greatest wrestler in the WWE and enters Sandow in the IC title battle royal. He said that if anyone didn't like it then "You're Fired." Stephanie McMahon comes on the big screen and she is pissed and brings out Khali to fight Sandow, saying Khali is in the IC title battle royal as well. The bell rings, Khali hits the chop and wins in just seconds.
Winner: Khlai (1/2 *)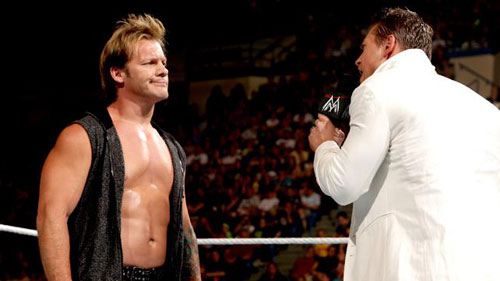 Up next is the return of The Miz. There have been huge rumors all day that a former WWE champion and huge cross platform superstar was making his return to the WWE tonight. The rumors started out as it being Brock Lesnar and then it was Chris Jericho, but I predicted it would be The Miz as a disappointment. Yeah, the fans don't care. He also has a new entrance video that looks a little like The Rock's Hollywood promo video. He said he chose the WWE over Hollywood because of the fans never supporting him. He said he won't leave until the fans are begging him to stay and then CHRIS JERICHO CAME BACK! Jericho took out Miz with the Code Breaker but then the lights went out and when they came back on, The Wyatt Family was in the ring. Jericho tried to attack first but they beat him down and Wyatt hit Sister Abigail's Kiss.
Fandango vs. Dolph Ziggler
Dolph Ziggler looked great at Money in the Bank and the fans still seem to pop hard for him. The announcers said that Layla and Summer Rae made a truce on the WWE app before this match started. A "let's go Ziggler" chant starts. Summer Rae came down and walked into the ring. She then kissed Ziggler, which made Fandango really upset. Then, Ziggler grabbed her and laid a HUGE kiss on her. Summer looked upset and left and then when Fandango was yelling for her, Ziggler hit the Zig Zag for the win. Summer Rae looked happy after this happened, but also a little confused.
Winner: Dolph Ziggler (**)
Rybaxel vs. Goldust and Stardust
This is a never ending feud. Just like at Money in the Bank, the fans chanted "feed me more" when Ryback set up for his meat hook clothesline. Just like at Money in the Bank, Stardust pinned Curtis Axel. JBL: "What went wrong in that household to breed those two?" Lawler: One word – Dusty."
Winners: Goldust and Stardust (* ½)
WWE Divas Championship: Paige vs. AJ Lee
Paige comes out next and gets a microphone to cut a promo. She said a lot of people didn't think she deserves to be champion, but she has proven that she deserves to be there and deserves to stay. AJ LEE IS BACK! AJ Lee skipped around the ring like three times. She is awesome. There are a lot of fans chanting CM Punk. AJ Lee got a mic and said that Paige is right and that Paige proved her wrong and proved everyone wrong. AJ Lee said she should not have rubbed it in everyone's face but that Paige slapped sense into her. AJ Lee said thanks and congratulations but Paige said she was not stupid because this is what Paige did to her the night after Wrestlemania. She said that she won't make the same mistake that AJ Lee did. Paige then said no one wants to see her defend her title. AJ Lee said that the fans should decide and the fans cheered. Paige agreed. The fans were cheering for AJ Lee and Paige looked pissed and was super aggressive. However, AJ Lee wrapped Paige up in a cradle and won her title back.
Winner: AJ Lee (* 1/2)
John Cena and Roman Reigns vs. Randy Orton and Kane
Triple H is at ringside to watch the main event. The match was all right and decent, yet slow. It was strange to see Roman Reigns play the face in peril through the middle of the match. Cena hit the Five Knuckle Shuffle onto Kane, Orton came in and hit the RKO, Roman Reigns came in to hit the Superman Punch on Kane and then he fought with Orton to the back. Kane then tossed Cena from the ring and hit him with the ring steps. Triple H told Kane to finish him and Kane hit the tombstone and the fans chanted "one more time." Triple H checked on Cena, saw that he was unconscious and signaled for someone and Seth Rollins came down to cash in. The referee wouldn't call for the bell because Cena was unconscious and when Triple H started yelling at him, Dean Ambrose flew into the ring and started beating the hell out of Rollins and they fought to the back. Kane brought in a chair to take out Cena and Roman Reigns ran back down and speared Kane. Reigns and Triple H stared each other down as the fans chanted "this is awesome" and then Triple H backed down to end the show.
Winners: John Cena and Roman Reigns (** ½)