It's time for WWE Money in the Bank 2014.
Before the pay-per-view started, the WWE Network Kickoff Show saw Daniel Bryan come out and announce some bad news. His arm is not getting stronger and he might need another surgery. He said that it wouldn't be a Daniel Bryan story without some setbacks. Then, Bo Dallas came out and said that Bryan not competing has to be a pain in the neck. Bryan responded that Dallas was being a "Bo-ner" and needed to "Bo-Leave."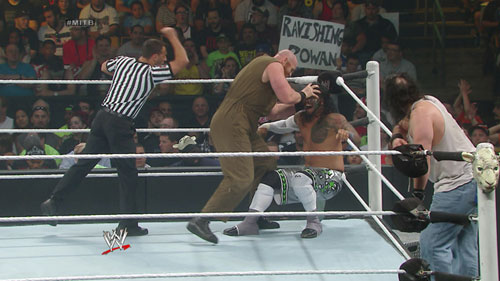 WWE World Tag Team Championship: The Usos vs. The Wyatt Family
Just like on WWE Monday Night Raw, The Wyatt Family came out to different music than Bray Wyatt. Their music started with the child singing "He's Got the Whole World" and then they got a generic electric guitar theme. While it isn't the same, or anywhere near as cool, they still get the lights out and the fan's holding up their lighters. This match was just awesome and the fans were hugely into it. Not only was The Usos pulling off amazing moves but Luke Harper was as well, with two suicide dives of his own. It also seemed like they were popping for The Usos but were cheering for The Wyatt Family to win. Rowan even went to the top buckle, which had the fans on their feet, until Jimmy stopped it and he and his brother hit a double top rope superplex! Both Usos then hit back-to-back Superfly Splash's on Rowan for the win.
Winners: The Usos (****)
We get a Dean Ambrose backstage promo next where he contemplates whether he wants the Money in the Bank briefcase or wants to smash Seth Rollins' face more. He then calls Triple H "Seth Rollins' daddy."
WWE Divas Championship: Paige vs. Naomi w/Cameron
Of course, the big story here is that Cameron is on the brink of turning heel but is sticking with Naomi. Naomi dominated the early part of the match and Cameron looked bored. When Paige started to get the advantage and used submission holds to punish Naomi, Cameron looked happy. It seemed clear how this match was going to end, but they went with a clean finish. Paige actually kicked out of Naomi's Rear View (the old Iceman King Parson's Butt Butt). Naomi went for another finisher but Paige reversed it into a NICE DDT for the pin fall. Cameron cheered at the Naomi loss but then comforted Naomi after the match.
Winner: Paige (** ½)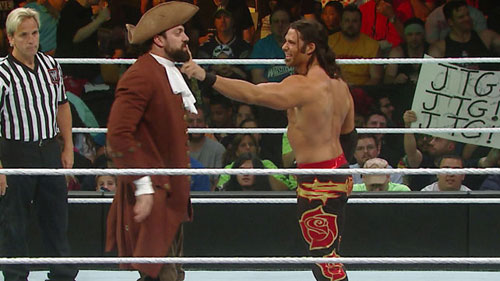 Damien Sandow vs. Adam Rose
Damien Sandow is out next as Paul Revere. He came out to make fun of Adam Rose' Rosebuds. He then makes fun of Boston and Adam Rose is out with his Rosebuds! "Don't be a lemon, be a Rosebud." Sandow put on a great match and there was even one moment where Sandow took off his stupid Paul Revere jacket and looked like he was getting serious, and the fans popped for him. He then hit a NICE moonsault that misses and lost to the Party Foul.
Winner: Adam Rose (**)
Money in the Bank Ladder Match: Seth Rollins vs. Dean Ambrose vs. Rob Van Dam vs. Kofi Kington vs. Dolph Ziggler vs. Jack Swagger
Bad News Barrett is out of the Money in the Bank briefcase match because of his real-life shoulder injury (suffered at the hands of Jack Swagger). After this announcement, we hear from pre-recorded statements from Seth Rollins, Rob Van Dam, Kofi Kingston, Dolph Ziggler and Zeb Colter (with Jack Swagger) about the Money in the Bank briefcase match. The match itself was a perfect example of a great match with a HORRIBLE ending. There were some HUGE spots in the match, including Jack Swagger hitting the powerbomb onto Rob Van Dam from the top of the ladder and then an even bigger spot when Dean Ambrose superplexed Seth Rollins from the top of the ladder. Later in the match, Kofi Kingston threw RVD from the top of the ladder through another ladder. The medical officials came out and forced Ambrose to leave with a dislocated shoulder. There was a point where Dolph Ziggler took everyone out and it looked like he was going to win. He even forced his way up the ladder while Swagger had him locked in the Patriot Lock. Then, Seth Rollins came back in and started blasting Ziggler with a chair. Rollins climbed the ladder while the fans chanted "We Want Ambrose." When Dean Ambrose ran back in, the crowd went nuts. He killed Rollins with a chair and then climbed the ladder to get the title. However, Kane's pyro went off and he came down and chokeslammed and tombstoned Ambrose and then Kane held the ladder for Rollins to climb for the briefcase to win. After the match, Triple H and Stephanie McMahon came out and cheered for Rollins. However, backstage Randy Orton said that Rollins needed all the help he could get to win but he will win on his own tonight.
Winner: Seth Rollins (*** 1/2)
Rybaxel vs. Goldust and Stardust
At one point in this match, the fans actually started chanting "feed me more" when he was setting up for a clothesline, which was maybe the first time fans chanted for him instead of against him. The end came when Ryback went for the Shell Shock but Stardust rolled out of it and hit the Cross Rhodes. Curtis Axel made the save, but when he tried to clothesline Stardust, he missed and hit Ryback. That caused Stardust to roll Axel up for the pin and the win. I just noticed after the match that Cody Rhodes also has red contacts.
Winner: Goldust and Stardust (* 1/2)
Rusev w/ Lana vs. Big E
This match was kind of boring, and actually wasn't even as good as the TV match they had recently. However, as a big man fight, it did what it was supposed to do. There was a great moment at the end when Rusev locked in the Accolade and Big E almost stood up from it, but couldn't make it and lost.
Winner: Rusev (* ½)
Backstage, the Bella Twins are talking about Vickie Guerrero and then Stephanie McMahon comes up and asks Nikki Bella what Brie Bella is doing backstage. Nikki said she thought she would invite her as a special guest. Stephanie told Nikki not to think because that isn't what a Bella is known for. Then Brie shows Stephanie the video of Vickie Guerrero throwing Stephanie in the mud last week. Stephanie has security throw Brie Bella out of the building.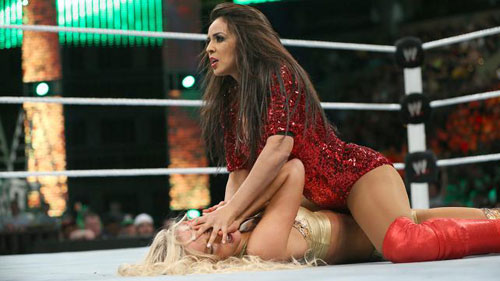 Summer Rae vs. Layla (with Fandango as the guest referee)
Earlier on the show, Summer Rae and Layla have a stupid argument backstage about who loves Fandango more, who has longer legs and who has more natural breasts. Anyway, Fandango seems to still be with Layla but he hasn't made any indication of who he will side with here and seems to enjoy the women fighting over him (he said he likes Triangles). There was a point where Summer Rae was choking Layla with her foot and Fandango stopped counting to look at her leg. Summer Rae then tried to kiss Fandango but Layla attacked her. The fans start chanting "CM Punk." Summer Rae dominated but Layla won clean with a Knockout Kick. After the match, Fandango kissed Layla and left with her.
Winner: Layla (*)
WWE World Heavyweight Championship Ladder Match: John Cena vs. Randy Orton vs. Roman Reigns vs. Cesaro vs. Kane vs. Bray Wyatt vs. Alberto Del Rio vs. Sheamus
Triple H and Stephanie McMahon came out before they announced the wrestlers in the match. They have seats at ringside. It is every man for himself, with the exception of Kane not attacking Orton. Unlike most Money in the Bank ladder matches, this was just a brutal fight and brawl. There was actually a point where Randy Orton was legitimately busted open and he was out until the doctors could stop the bleeding. Bray Wyatt, at one point, actually choke slammed Roman Reigns and at another point hit his bodypress against a ladder held by two men. There was another point where Cesaro and Sheamus were fighting for the two belts and Wyatt knocked over the ladder and the two men hung from the titles until they each dropped one by one. In a huge test of strength, Sheamus and Cesaro was on top of the ladder and Roman Reigns actually reached down and lifted the ladder with his hands to tip them over. Roman Reigns speared Kane, hit the Superman punch on Sheamus and Randy Orton, the running kick onto Del Rio, put Wyatt through a table and speared Cesaro. He then took out Cena but that allowed Orton to recover and he took out Reigns. However, Bray Wyatt showed up and took out Orton. It looked like Wyatt could win but then Del Rio was back in and stopped him. Del Rio made it to the top and grabbed the titles but Sheamus knocked the ladder over and hit the Brogue Kick. This match started out kind of bad but really picked up here at the end. Cesaro took out Sheamus and then Orton came from out of nowhere and hit the RKO from the ladder. Orton climbed and then Roman Reigns was back. Orton was busted open again at this point. Reigns took down Orton but Kane was back and chokeslammed Reigns. Kane held the ladder but Cena hit the AA on Kane and Orton and became a 15-time world champion.
Winner: John Cena (***)