Marvel's Daredevil Netflix series just got very awesome. While the exit of Drew Goddard was disappointing, he was at least replaced by a fellow Joss Whedon disciple in Steven S. DeKnight. Now, Marvel just announced today that Vince D'Onofrio will be playing The Kingpin in the Netflix series.
First, let's get over the fact that D'Onofrio is not a giant, hulking man like The Kingpin in the comics – no one is. When the Daredevil movie cast Michael Clarke Duncan, people whined about the race change, but Duncan was awesome in the role. Now, the Daredevil Netflix series looks like they will be putting their own touch on the character.
"We're incredibly proud to have an actor with the gravitas and versatility of Vincent joining 'Marvel's Daredevil' in such an integral role," said Jeph Loeb, Marvel's Head of Television. "Wilson Fisk is an iconic villain whose cunning and power make him the dangerous equal of our hero."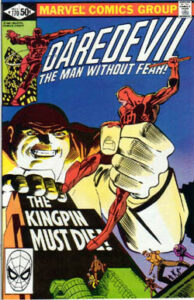 And, he's right. While a lot of people just know D'Onofrio from the TV series Law & Order: Criminal Intent, he has proven over time to be a perfect villain as well. Go back and watch his frightening performance in The Salton Sea as drug dealer Pooh-Bear, and you will see a great idea of how dark he can go.
Second, we are getting Kingpin in the Daredevil Netflix series. This is the first time we have heard about any characters outside of Daredevil for the show. It makes sense too, since there is no one else that would fit a Daredevil story any better. Hopefully, since this series has been described as a graphic novel, they will go with Kingpin destroying Matt Murdoch's life only for him to climb back up, stronger than ever.
The Daredevil Netflix series will be the first of four solo Marvel Netflix shows, followed by Luke Cage, Jessica Jones and Iron Fist. After that, all four will team up in a Defenders miniseries. What are your thoughts of Vincent D'Onofrio as The Kingpin? Let's chat in the comment section below.