Omega 13– A weekly treatise in which we analyze publicly derided Box Office Failures using granular convection to piece out the good that might lie beneath.
With the Internet taking great pleasure casting an askance view on even the minute of failures in all manner of creative endeavor, I thought it might be nice to look at those famously bad films of the past and revealing all the moments where they made the right choice. All movies have them, and they are even easier to see in a bad movie than in a good movie (since good movies are brimming with goodness). Kind of a Devil's Advocate, but with a Pollyanna attitude; This is Omega 13…
———————
Episode 02- Ishtar (1987)
Distributer: Columbia
Release Date: May 15, 1987
Budget: 55 Million
1st Weekend Total: 4.3 Million (Domestic)
Elaine May's Ishtar might have been doomed before it made it to theaters. Reports of going over budget, adding more shoot days; plus a rumor about a blue-eyed camel that was eaten, and set dec apparently bulldozing a sand dune so it was flat, all percolated to the press. And then, from the press, it made its way to the ears of North American population, and those would-be audience members took a pass and went to another film that weekend, The Gate.
"If all of the people who hate 'Ishtar' had seen it, I would be a rich woman today," said Director Elaine May in an article in The New Yorker.
Just like the hockey mask of Jason Voorhees, from the Friday the 13th franchise, is known around the world by all ages – even of those who are not even old enough to see an R-rated film – Ishtar is the first film on the lips of anyone who is asked to reference the worst movie of all time. Taking the mantle from Ed Wood's Plan 9 from Outer Space (which I will defend in the coming weeks), Ishtar is now more famous to more people who have never seen it than the number of people who have actually seen Citizen Kane. It has risen to mythic proportions, far above the meager comedy it truly is and, almost 30 years later, it still brings a bad taste to the mouths of movie goers.
Isthar's first five minutes single handedly show you what collaboration of artists looks like; the messy, clumsy rattling off of lyrics looking for the ones that stick. Very rarely does a song come in one fowl swoop, then record it in one take and a hit single is released. Leonard Cohen, writer and composer of the critically acclaimed "Hallelujah," admits he takes years to compose one song. It is hard work, and as we meet Lyle and Chuck as they write "Dangerous Business," we see how they work together. We understand that these are men who are destined to make music, regardless of what night clubs, or agents, or even their significant other's think. It is their destiny.
Chuck
I lived with my parents until I was thirty-two. I've just dribbled my life away.
Lyle
It takes a lot of nerve to have nothing at your age.
Hoffman and Beatty were both deliberately cast against type here, and to great results. They work well in their respective roles, showing off their comic timing and improv skills. They prove how well they worked on their characters by always being in the moment, even when the spotlight was not on them. It's just a delight to witness.
Beatty is well known for playing the sexy leading man: Joe in Heaven Can Wait; Clyde in Bonnie & Clyde; Pat in Splendor in the Grass. His tall, strong features – staring you down with those squinted bad boy eyes – are not to be found here in his portrayal of Lyle. Beatty must have taken a page from Brecht to find in himself Lyle: slight hunch years of being embarrassed of being taller than people, his hair is coils of dirty mess, he can't talk to women, dopey and lost. He is a wonder to be seen as he towers over Hoffman.
Hoffman plays Chuck: Strong-willed, self confident; struts through New York exuding that intangible "thing" that makes everyone look at him. 5 foot 5 inches to Beatty's 6 foot 2, Hoffman commands the room. It is not just the words that he is speaking but the demeanor and mannerisms that he brings to his characterization of Chuck that gives us a real dynamic duo here. If Beatty was not able to sell weak, sad and humble, and Hoffman not give us strong, cocksure and resolute, then the very core of Ishtar would have failed. It most certainly did not.
Even Charles Grodin as the ebullient C.I.A. operative Jim Harrison is playing against his usual grumpy, quirky and oft-irksome character we are used to loving him as. There is no hint of Nicky Holiday from The Great Muppet Caper here. Although he does have his fair share of comedic moments, he is more the straight man here while Dustin and Beatty are the 2 Stooges. He is still having wonderful moments such as when he mugs his way through a remarkably close Alan Arkin impression, over the phone with the President of the United States, denying the rumors of the C.I.A. having any involvement in the attempted murders of Lyle & Chuck.
And, with a nice list of supporting characters, there is so much fun to be had here: Isabelle Adjani as Shirra, the sexy Ishtar rebel, Carol Kane as Lyle's ex-wife, David Margulies in a small but fun role as Chuck's father, Jack Weston as the duo's agent. Even Matt Frewer as Random C.I.A. Agent enjoys a few choice lines; and stealing the show in its few scenes is the Blind Camel whom our heroes take with them to the desert in search of a nonexistent Spa. It bumps into extras, and walks in circles or trips over its own leash with such comic timing that this animal, which was bought, you would have assumed had been trained
Lyle
I got a feeling something went wrong and now I own a blind camel
The comedy is layered thick, not just with the main story of Lyle and Chuck, desperate to be famous, but in the background as well. For instance, in a scene where Chuck is speaking to the United States Embassy he finds out that he cannot get a new passport in the time needed to get to Morocco to play their first concert. He punches the wall from annoyance at himself for losing it only to have two men clumsily try to put it back together while Lyle and Chuck finish the scene. Or, another scene that also has Watchmen's Matt Frewer in a small role as a C.I.A. agent dressed as a "local" complete with fez, as well as multiple other countries' secret agents dressed up in their own disguises, with three cars bumping in to each other as they stealthily follow Lyle, who is off to meet Shirra. The hijinks abound as the film drops into classic slapstick.
Agent 01
The KGB is here. I recognize 2 agents.
Agent 02
The one's dressed as Texans?
Agent 01
No, The ones dressed as Arabs. The ones dressed as Texans are Arab agents.
I also recognize 2 guys from Turkish Intelligence.
Agent 02
In the Hawaiin shirts.
Agent 01
No, The Bermuda shorts. The ones in the Hawaiian shirts are tourists.
A lovely side story involves the bizarre love triangle between Lyle, Chuck, and the rebel Shirra. Shirra had contacted Chuck first to help her smuggle items into Ishtar and Chuck agrees only because he feels that there is chemistry between them. Later when she breaks into their room to retrieve the items, Lyle discovers her and, to dissuade Lyle from calling the C.I.A., she instead hires him to work for her. When the C.I.A. informs Chuck that Lyle is working for Shirra, out of jealousy- and need for money- Chuck begins to work for them. Later when Shirra and Chuck meet again, like a clumsy, sitcom character, he admits that he had no problem being a "Communist" or whatever she was, he only was jealous that she tried to turn Lyle and not him. Classic Farce.
The movie was originally pitched as a Road movie like the ones Bob Hope and Bing Crosby did through the forties and fifties, but with incompetent singer/songwriters and as such there are many songs in the film. Most of which were written or co-written with Paul Williams, of Phantom of the Paradise, The Muppet Movie, and The Muppet Christmas Carol, as well as giving us such classics as "Rainbow Connection", and "Just an Old Fashioned Love". Paul does a tremendous job creating bad songs that are not so awful you are put off the film itself. His lyrics are almost good but wickedly never good enough. He said once that it was, "one of the best jobs [he's] ever had" but he's "never worked harder." And with awful songs to perform, Beatty and Hoffman bring a charm to their horrible renditions, yet still look like two men who believe in what they are selling is, as Chuck says to Lyle, "Dangerous Business, is as good as anything [Simon & Garfunkel] ever wrote."
Telling the truth can be dangerous business.
Honest and popular don't go hand in hand.
If you admit that you can play the accordion,
No one'll hire you in a rock 'n' roll band.
But we can sing . . . our hearts out (all night)
And if we're lucky, then no neighbors complain.
Nobody knows where the beginning part starts out (sing all right)
But being human we can live with the pain.
Perhaps it is because of the casting against type for those who saw Ishtar back in 1987 that the adoring fans of Hoffman and Beatty were taken aback. The public hadn't seen Beatty since Reds in 1981, and before that was Heaven Can Wait, so they might have been wishing to see more sex symbol and a lot less schmuck. Hoffman was still in the hearts and minds of the adoring public for his portrayal of Michael/Dorothy in Tootsie and a smooth talking, ladykiller like Lyle might have been off-putting as well.
Chuck
Are those vultures?
Lyle
Yeah, you fainted. They thought you were dead.
Chuck
You mean they're here on spec?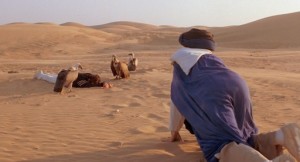 The story is Ishtar had three successful screenings before it went to theaters and both the director and actors felt they were ready for a successful run. The press on going over budget et al might have been too much and it was publicly derided. Regardless of the myth of the box office bomb that Ishtar became, it is a very funny movie with many memorable moments. Two of our finest movie stars give us some well-defined characters that are relatable and enjoyable. A film that is far above the the mire that Hollywood has buried it in. Much like Waterworld (which we looked at last week) Ishtar is a movie that is widely hated, but this reviewer wonders just how many people actually saw it that have jumped on the band wagon to chide it. Perhaps it never attains the comedic heights that the parties involved hoped it would reach, but what it lacks in perfection it makes up for in grand enjoyable fun.
James C.
End Episode 02
Stay tuned for next week's episode of Omega 13 where we dig through mire to find the appreciable inside 1980's Heaven's Gate.