Sometimes plot and character development take a backseat to favor raw art and open interpretation. Michael Rader is a visionary artist with some of the most fabulous ideas I've seen from a single person. His work has inspired me as a filmmaker and a writer and pushed me to be innovative when I thought innovation would be unnecessary or inappropriate and quite frankly, I consider myself one of his biggest fans. Rader is a painter, a filmmaker and experimental animator.
I first met him when he was premiering his film MAN vs. ULTRAMAN at the Art of Brooklyn Film Festival and his work struck a chord with me. I first noticed his work because he had hand painted his movie poster on a canvas and hung it up alongside all of the other standard, press printed movie posters that were likely created in Photoshop. Man vs. Ultraman is an experimental 20 minute film which features miniature sets and characters, all manufactured by Rader and of course Rader himself as the "artist" character in the story, so a hand painted canvas "poster" was an obvious choice for an avant-garde film such as Man vs. Ultraman. Here is my reasoning for why Man vs. Ultraman deserves the Criterion Treatment (or an equally thoughtful release).
*Possible Spoilers* below for anyone who hasn't seen this movie.
Man vs. Ultraman is pure art house cinema and this kind of movie isn't made often enough, 'nor is it ever as successful with the American festival circuit as Rader's film has been. He has won several awards for the film and most recently the movie ran in loop along with an art installation he created at the Christopher Henry Gallery in SoHo last fall. It is a film depicting an artist's turmoil and mental process while creating a painting and that painting and the process the film documents is completely real. Everything about this film is personal and enthralling, from concept to completion. It is also genius.
The fact that Rader has made Man vs. Ultraman a valuable work of not only the film world, but the art world too, is inspiring to say the least and a clear demonstration of his natural ability to crossover different mediums. It takes enormous talent and dedication to create a work that transcends both worlds and he certainly has what it takes. The film's success was so unexpected that the gallery that hosted the installation titled Below See Level, which tied in with the film, opened up the second floor to Rader so that he could display his set pieces from the movie.
Current Availability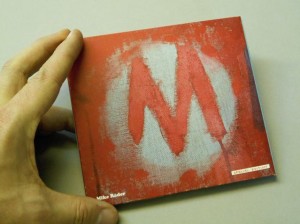 Recently Rader hand made 20 "special edition" DVD's on his own accord, hand painting the covers, interior art work and even went as far as to individually number them. He's an artist that understands product and would make a great contributor to what could be a very unique collectible edition of the film, should it receive a Criterion spine. While I've pretty much outgrown my desire for more "things" and have stopped purchasing DVD's altogether, I can't help but to "want" this special edition because it truly is a valuable work of art. If there is any reason in the world to invest in securing the distribution of this film, the fact that it is a beautiful work of art is as good a reason as any.
A major release could offer a number of additional features, but most importantly, demonstrate a desire for art-driven content which is desperately needed in the film market. Some of the supplemental content I'd like to see are an archive of the press Rader has received during the festival run of the film, in depth interviews with the filmmaker and an audio commentary. Rader is well spoken and hearing him talk about his work and art in general is always enlightening.
Read more about Mike Rader and his work:
You can view Rader's animations on his YouTube Channel.
I had the opportunity to interview Rader for his screening at the Anthology Film Archives last year. Here is that interview:
http://www.youtube.com/watch?v=TikGnYkcvHI