While at the South by Southwest Film Festival, Jim Carrey was promoting his new movie The Incredible Burt Wonderstone and someone asked him about the Jim Carey Guardians of the Galaxy rumors that had popped up all over the Internet.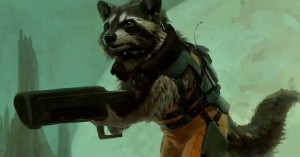 Carrey said he had never heard of it.
The original rumors claimed that Marvel wanted Jim Carrey and Adam Sandler for the upcoming Marvel movie. The thought was that the two comedians could voice the characters of Rocket Raccoon and Groot, since both of those characters just need voice actors. Rocket is a raccoon and Groot is a tree-like creature.
Either Jim Carrey is lying, the Jim Carrey Guardians of the Galaxy rumors were untrue, or the request never got past Carrey's agents.
He did make comments about his involvement in Kick-Ass 2, which he said was "gonna be fun…I had a blast."
Source: GeekscapeDotNet