At long last, Season 3 of Sherlock has a premiere date scheduled! PBS Masterpiece has unveiled the long awaited date, which is set to kick things off Jan. 19 at 7 p.m. PT (10 p.m. ET), following the popular BBC series Downtown Abbey. Keep in mind, this is for the U.S. premiere, not the U.K., which is currently still awaiting an announcement.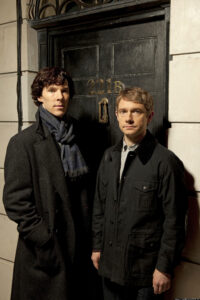 In case you didn't know, Sherlock is a contemporary take on the famous detective created by Arthur Conan Doyle. It stars the amazing Benedict Cumberbatch in the famous role, with Martin Freeman as the character Detective Watson who finds himself intrigued by Sherlock's antics, and decides to help him solve cases. I finally caught the show on Netflix a few months ago, and I have to admit it is quite good. I can watch Benedict Cumberbatch in just about anything though.
This is great news for fans that have been waiting since 2012. WARNING… Spoiler Alert! When the show ended last year, viewers have been biting their nails wanting to know what exactly happened in the last moments of the show. If Sherlock fell to his death, then why was he standing there alive at the end? Finally, we will all have our chance to see what exactly happened. The mystery of Sherlock's amazing survival is planning to be revealed in an episode called "The Empty Hearse." Steven Moffat, the creator of the show says  "There really are only a few ways you can fall from a roof and survive. It's not black magic." Curious isn't it? Spoilers End!
Here is a teaser trailer that aired a few months back!
[fresh_video url="http://www.youtube.com/watch?v=llGXWICGsD4″]
Are you excited for the Sherlock Season 3 premiere date?
Source: PBS Masterpiece