Pacific Rim tried to surge heading into its opening weekend, with news of 60-percent of Fandango's pre-sales pushing it up, but it couldn't overcome the competition and finished in third place for at the weekend box office. The Pacific Rim box office numbers weren't horrible at $38.3 million, but it wasn't good considering its budget.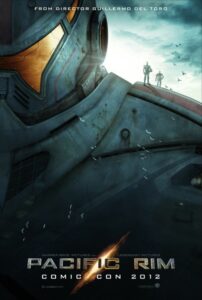 Luckily, people who were scared that the first sequel of Adam Sandler's career would take first place were slightly satisfied to learn that it couldn't take the top spot either. That went to Despicable Me 2, which brought in another $44.8 million to push its domestic totals to $229.2 million. Those are nice numbers for the fun animated movie.
Sandler's Grown Ups 2 finished in second place with $42.5 million, the second highest opening weekend movie of Sandler's career and the best when it comes to his comedy troupe (his previous best was for The Longest Yard). That was also the highest comedy opening this year, beating out Hangover III.
Pacific Rim took third, making more money than Oblivion but way below the opening for World War Z. The Pacific Rim weekend can at least take solace in the fact that it did better in its opening weekend than The Lone Ranger, and was much better reviewed as well. Another positive for this opening is that it is Guillermo Del Toro's biggest opening weekend ever (Hellboy II brought in $34.5 million).
The rest of the Top 10 for the weekend was The Heat ($14 million), The Lone Ranger ($11.1 million), Monsters University ($10.6 million), World War Z ($9.4 million), White House Down ($6.15 million), Kevin Hart: Let Me Explain ($5 million) and Man of Steel ($4.83 million).