Fantastic Fest has announced that Machete Kills will kick-off the opening night of the epic event in Austin, Texas. This seems highly appropriate with it being the hometown of Robert Rodriguez. What better place, right?
This will be the world premiere of the movie and will be held at the new Alamo Drafthouse Lakeline on September 19th. Stars from the fillm are expected to attend, including Danny Trejo and Alexa Vega, as well as director Robert Rodriguez himself.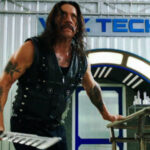 Fantastic Fest Co-founder & Creative Director Tim League had this to say about the big announcement.
"Every year we compile our dream targets for opening night film; MACHETE KILLS was at the top of that list. We are going to pull out all the stops to ensure Robert's world premiere red carpet experience is literally blood red."
 Rodriguez also shares a statement about his Machete sequel kick-starting the opening night festivities.
"Fantastic Fest has quickly become the best place for fans to first experience the newest and coolest genre movies and blockbusters. I am honored and extremely excited for Machete Kills to have its world premiere right here in Austin and kick off Fantastic Fest."
This is a pretty solid way to open Fantastic Fest. Rodriguez is a huge name for Austin, Texas and it suits that he unveils his Machete follow-up right here at home. Plus, Machete Kills looks like the perfect movie to fit the Fantastic Fest line-up. I can't wait to hear the rest of the screenings that the folks over in Austin have planned for the event this Fall.
Fantastic Fest will take place in Austin September 19th through the 26th! Fan badges are now on sale!
Source: Fantastic Fest