So, how do all you guys and gals feel about Spike Lee remaking Park Chan-wook's violent opus Oldboy? Guess it doesn't matter much what we think; it's coming anyway. As I've always said, the original still exists, and is right up there on the DVD/Blu-Ray shelf whenever needed. Still, color me intrigued by the thought of Spike Lee interpreting this violent tale of revenge.
The first poster for Lee's remake/reinterpretation was released this week; check out the Oldboy poster below.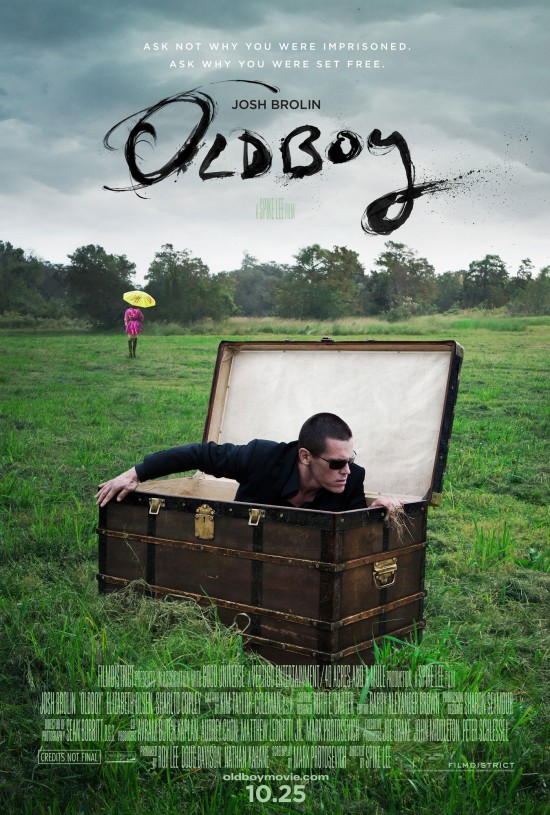 This immediately gets one thumb up from me for the casting of Josh Brolin, for in my eyes, he can do no wrong. If any American actor can properly channel the original character and his journey through hell and back, it's Brolin. The above Oldboy poster shows him freed after 15 long years of imprisonment under mysterious, vague circumstances (half the fun of this movie, like the original, should be viewers engaging their brains along with the people up on screen to unravel the puzzle). This shot is actually a frame from the film, not some glossy Photoshop rendering, and for that we should all give thanks. Searching around the web also reveals that the film title on the poster is Brolin's handwriting, taken from letters his character writes in the film.
Word on the street is a trailer will be released tomorrow, Wednesday July 10th. Stay tuned to Renegade Cinema for a look at it when it breaks. Spike Lee's Oldboy, also starring Elizabeth Olson and Sharlto Copley, hits U.S. theaters on October 25th.
Source: Ain't It Cool News