When it comes to the Pacific Rim box office, don't worry, be happy.
If you'd like an official quote, what Guillermo del Toro really said was, "We just need to keep working. Our numbers are going up. Not in a minor way. Significant. We are on the right track." Apparently the director is focused on the film's release and not overly worried about early audience data that indicates interest in Pacific Rim may be dropping. And when it comes to the whole Grown Ups 2 controversy (previously reported by Renegade Cinema here), del Toro imbued us with more of his wisdom: "Whatever sequel opens will have, by definition, higher awareness and numbers across the board but we are moving strongly in the right direction."
That's some movie Zen right there, folks.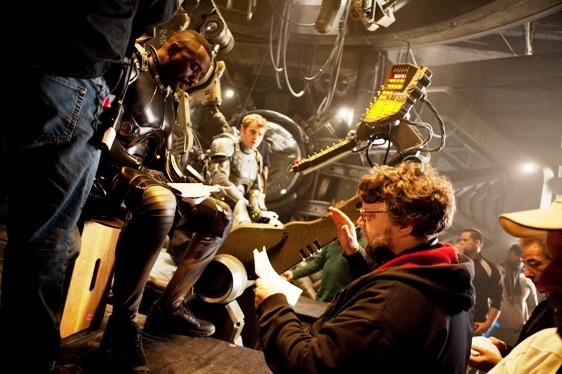 There's no denying that there's a lot at stake when it comes to the success of Pacific Rim. The movie cost an estimated $180-200 million to make and there's been a ton of cash spent on marketing to boot. Complicating matters is Legendary Pictures' recent split from Warner Bros. Warner financed 25% of Pacific Rim with Legendary on the hook for the remaining 75%, and if the movie flops things may get a bit dire as Legendary currently seeks a new Hollywood studio dance partner. A better than currently projected "soft" opening would go a long way toward Legendary finding a new home.
Luckily, tracking data has been wrong before, and there are even recent instances of its fallibility. World War Z, predicted to be a minor failure due to production hiccups and delays, had numbers continually adjusted upward and ended up with a significantly higher opening than previously anticipated. Aggressive marketing tactics helped the Great Gatsby overcome pre-release doldrums to open at $50 million. Or take the Guillermo del Toro produced Mama, which was projected to only open with $18 million back in January. The horror film ended up surpassing poor tracking data and taking in $28 million on opening weekend, at least partly because of devoted del Toro fans who pledge their loyalty with ticket purchases in appreciation of his efforts and the way he interacts with his audiences.
This type of loyalty likely isn't reflected in the tracking numbers, and will help bolster the success of Pacific Rim. So will del Toro's focus on what he can do to help spread the word, rather than letting Adam Sandler and Kevin James disrupting his mecha vs. kaiju mojo. Expect marketing to ramp up even further as days tick by bringing us closer to July 12th. And remember: AWESOME HUGE ROBOTS fighting GIGANTIC MONSTERS FROM THE DEEP. For most of us, that's all the marketing Pacific Rim really needs.
Source: The Hollywood Reporter