New images from the set of the new Teenage Mutant Ninja Turtles arrived online yesterday, and and one of them has a clear view of the film's logo. This also confirms that the new project will be referred to by the classic name. At one point, it was rumored that the project would simply be named Ninja Turtles, eschewing the famous Teenage and Mutant parts.  It would have been colossally stupid of the marketing to refer to the project just as Ninja Turtles. All they'd do is lose money. Don't believe me? Look at John Carter. As for the logo itself, it looks like they have removed the classic muscular style font and exchanged it for some green metallic looking letters.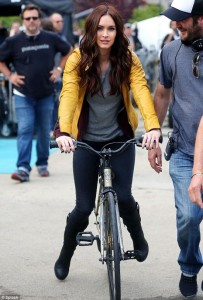 Along with the image of the new logo, there have also been some new images of Megan Fox on set. Some pictures show her wearing a yellow jacket, which is clearly a reference to April O'Neil's signature yellow jumpsuit.
There were also some pictures of Megan Fox giving a news report. There really doesn't seem to be too much to say about these. She's doing some kind of exercise segment in a park, and she fills out a pair of yoga pants very nicely. But didn't we already know that last part?
The news about the title of the film should cool off some of the heat that the projects has gotten from the fans. But I'm certain that there will be plenty of other fans (like me) who are still annoyed that Megan Fox is playing O'Neil.
What do you think of these new images from the set of Teenage Mutant Ninja Turtles? Are you hopeful for the future? Or do you see storm clouds ahead? Why don't you just tell us what you think in the comments below?
Source: Slash Film