We've heard quite a lot of casting news for Guardians of the Galaxy over the last few months, and at this point most of the major roles have been cast. We have Star-Lord, Drax, Gamora, Yondu, and the film's villain, The Collector. However, one of the major characters and fan favorites of the team, Rocket Racoon, has yet to be cast. New David Tennant Rocket Raccoon rumors might change that.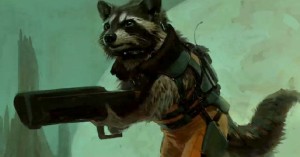 At the London premiere of Iron Man 3, Guardians of the Galaxy director James Gunn took the time to speak about the actors who had been cast as Guardians. He was very complimentary for the cast that have already joined, and grateful that Marvel had backed him on his decisions. He also had some specific things to say when he was asked about Rocket Raccoon.
"I think there's – here's the thing: there are a lot of people who have a lot of ideas of who is right for Rocket Raccoon  Rocket Raccoon has been slightly different over the years, in the comic books, and within my scripts he is a very, very specific guy, and I think people are going to have to wait for a few weeks before they see."
Yesterday, a poster named Andrew posted on the official Facebook page for the Marvel Cinematic Universe and reported that former Doctor Who star David Tennant has been tapped to voice Rocket Raccoon.
Keep in mind, at this point, this is only a rumor. There has not been any official confirmation from Gunn, Tennant, or Marvel themselves. That being said, it would be a great choice. Tennant is known the world over for playing the tenth incarnation of the Doctor on BBC's Doctor Who, and he's also made a name for some more quirky roles, like in the remake of Fright Night. He is a very underrated actor, and he could steal the show as RR, even if he's just doing the voice. He can be wacky, hyperactive, emotional, and even deadly serious when he needs to be. He's that talented.
I don't know if this rumor is true, but I'd love for it to be.
What do you think of the David Tennant Rocket Raccoon rumors? Do you think he's a good choice for the role? Why don't you just tell us what you think in the comments below?
Source: Screen Rant, MCU Facebook page