Love him or hate him, Keanu Reeves has accomplished  an interesting archive of films. Sadly, the man's acting abilities have dwindled terribly over the years. If only his acting was on par with his film choices. All that said, it appears Neo himself has finally decided to move behind the scenes with his first martial arts feature, Man of Tai Chi. The trailer shows off some slick fight choreography with several fight movie alumns. The Man of Tai Chi is said to have over 40 minutes of ass-kicking mayhem. Check out the Man from Tai Chi trailer below!
[youtube http://www.youtube.com/watch?feature=player_embedded&v=azbrjFq2L7w]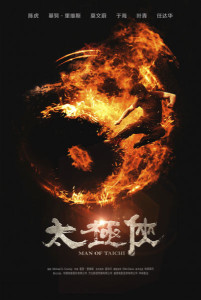 Looks like a fun fight tournament movie. I always have a weakness for these kind of movies. Even the terrible ones can be somewhat fun. Remember Best of the Best 2?
By the way, was I the only one who felt Reeves's presence was a bit out-of-place in this promotion? I kinda wish he took a back seat for his first major film.
Anyway, here is a synopsis of the film:
In Beijing, a young martial artist's skill places him in position to experience opportunities and sacrifices.
What do you think of the Man of Tai Chi trailer?