Attention to all Breaking Bad fans… The last eight episodes of the beloved show has finally been scheduled. August 11th is the forthcoming Breaking Bad return date for Walter White and company. That's not at all folks! You know how AMC has Talking Dead  for The Walking Dead fans? Well, prepare yourself for Talking Bad. Pretty exciting stuff right?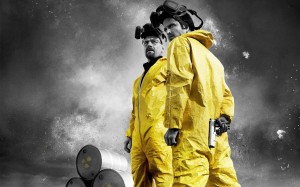 Even though the show is coming to an end, we're not completely finished with the world of Breaking Bad. We reported weeks back that the character Saul Goodman is expected to return with his own spin-off. The show-runner Vince Gilligan, is also expected to return to handle the Saul spin-off, which is a good sign for quality. No official name of the program has yet been announced, but I'm placing my money on Better Call Saul.
Breaking Bad has ended up as one of my favorite shows of all time, so it's sad to see it coming to an end. That being said, I'm incredibly eager to see the conclusion of Walter White's story. It may seem far away but August is right around the corner. Bring on Heisenberg!
Are you pleased with the Breaking Bad return date?
Source: Rolling Stone