The filmmakers who brought you Interview With a Vampire are returning this summer with their upcoming vampire film Byzantium. Starring Saoirse Ronan and Gemma Arterton, this film seems to be exactly what the vampire genre needs after the Twilight phenomena. Check out the Byzantium UK trailer here:
[youtube http://www.youtube.com/watch?v=_zu2cW7AhO8&w=450&h=300]
Saoirse Ronan (Hanna, The Host) and Gemma Arterton (Hansel and Gretel: Witch Hunters, Prince of Persia: The Sands of Time) are both talented actresses, so I'm looking forward to this film for that alone. The trailer itself has also peaked my interest with the storyline. It's going to be exciting to get back to the blood and gore that the current vampire genre is seriously lacking.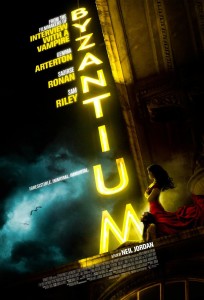 The film is written by Moira Buffini and directed by Neil Jordan.
What I love most about this UK trailer is that it doesn't give too much away. It gives viewers the feel of how the mood is going to be during the film and only reveals the most basic points of the plot, all while keeping it shrouded in mystery. That's enough to make me give it a chance in order to figure things out.
Byzantium hits theaters in the US on June 28.
Here is the synopsis:
Two mysterious women seek refuge in a run-down coastal resort. Clara meets lonely Noel, who provides shelter in his deserted guesthouse, Byzantium. Schoolgirl Eleanor befriends Frank and tells him their lethal secret. They were born 200 years ago and survive on human blood. As knowledge of their secret spreads, their past catches up on them with deathly consequence.
Source: FirstShowing.net, IMDB