Friday is here again, my fabulous fiends! This week we're going to sink into a little neo-noir, with the 1998 flick Dark City. Starring Rufus Sewell, Jennifer Connelly, Kiefer Sutherland, William Hurt and Richard O'Brien, Dark City brought us steam punk before steam punk was a household word.
Sewell heads up the cast as John Murdock, a man who wakes up in a seedy hotel room without any memory of who he is or how he got there. He does know that he doesn't think he's capable of murdering innocent young women, like the dead girl in the other room. So you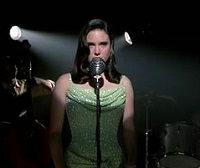 wake up holding a bloody knife, that doesn't really prove anything, right? He sets off to find out the truth, but the deeper he digs, the more bizarre the truth becomes. His only solid clues, aren't so solid, a lounge singing dame for a wife (Connelly) he has no recollection of and a postcard for 'Shell Beach'. Sunny Shell beach, in a city were daylight never seems to come. Before long he realizes that he is being hunted by not only the cops, but a group of strange men called, well, The Strangers. He finds a peculiar ally in a Doctor named Daniel P. Schreber,  played by Kiefer Sutherland, but his loyalties are a mystery in this mysterious reality. He is the only other person who knows of The Strangers, whose sinister hands seem to move this clockwork world. The power to change it, and the minds with in it, they see John Murdock as the ultimate threat to their 'experiment'.
The villains in Dark City are what truly make it a Fiendish Flick, seemingly a beta version of The Gentlemen from the Buffy the Vampire
Slayer episode Hush. It's as if Joss Whedon saw this flick directed by Alex Proyas and said, "Creepy….but they could be creepier. Wait until they get a load of my Strangers! ..Er…yeah, I'm gonna have to come up with another name for these dark gentlemen, hmm…" (I imagine that followed by maniacal laughter). Couple their pasty white completions, matching black suits, and names like Mr. Hand and Mr. Book, with their superhuman abilities and dubious desires and you have the makings of a truly wicked antagonist.
Neo-noir is one of my favorite genres, and this film is a fantastic example, with its stunning sets blending classic noir and sci-fi elements together in perfect harmony. Mystery, murder, conspiracy, Dames, mad scientists…what more could you want? Oh, I know, a vacation! Hey, do you know how to get to Shell Beach? -Ruby