WWE Monday Night Raw opened with Daniel Bryan's music started and then Stephanie McMahon came out in a shirt that said "Steph Steph Steph" (instead of YES YES YES). Stephanie started to brag about what happened last night at WWE Summerslam and how great all the decisions were, but her win over Brie Bella was the best. Stephanie then started accusing Daniel Bryan of cheating on Brie Bella again, dragging on the storyline. She then called out Nikki Bella.
Nikki Bella hugged Stephanie McMahon. She then started saying that since they were kids, it was always about Brie Bella. She went on and on about how tired she is about Brie Bella. She then threw the fact that Brie always tried to rub in the fact that she wasn't married and then said that Nikki won because Brie Bella married Daniel Bryan. Nikki said that she is heartbroken because of how bad Brie treated her all her life. Now, Nikki is free.
Brie Bella then comes out without music. She asks why Nikki did this, that they are sisters and that she forgives her. Nikki said that she will never forgive Brie and then slapped her hard. Brie went down and then left the ring in tears.
The World's Strongest Team
The first match saw the debut of a new tag team in Mark Henry and The Big Show (The World's Strongest Team). To put them over, they went up against The Wyatt Family. It seems strange to put them up against a team that is supposed to be a legitimate contender, but by beating them, it makes the duo instant threats. The Wyatt Family dominated Big Show for much of the match until he got the hot tag to Mark Henry. The end came when Big Show hit Luke Harper with the Knockout Punch and then hit Erick Rowan with it. Rowan spun from his into the arms of Mark Henry, who hit the World's Strongest Slam for the win.
In the locker room, Ric Flair is congratulating Dolph Ziggler on his Intercontinental title win. The Miz walks in and says that the title will come back to the A-lister tonight. Ziggler said that Miz isn't an A-lister, he is an A-hole. Flair "Wooo's" his approval.
Back from commercial, Renee is interviewing Seth Rollins backstage and he talks about beating Dean Ambrose at Summerslam. He then gets a bucket of ice water dumped over his head (homage to the ALS ice bucket challenge). It was Dean Ambrose who said that it was for charity and then he attacked Rollins. They had to be pulled apart. Seth Rollins went to Triple H and Kane and said they needed to take out Ambrose. Triple H will let the WWE Universe choose the stipulation for a rematch tonight so the fans have Ambrose's blood on their hands.
Natalya is in the ring and set to face the new Diva's champion Paige. She dedicated her match to AJ Lee, who she still loves and respects. Paige was dominating when AJ Lee's music started and she skipped down to the ring and distracted Paige long enough for Natalya to sneak a cradle for the win. After the match, AJ Lee said that she respected Paige, that she loved Paige and that she dedicates her entire life to Paige. She then said she wants to shake Paige's hand and Paige runs.
The stipulations that fans can choose from for the Seth Rollins and Dean Ambrose match include "No Holds Barred," "Falls Count Anywhere," or a "No Disqualification" match. So, basically the same match with three different names.
Triple H and Stephanie McMahon came out next. They are here to present the brand new WWE World Heavyweight Championship to Brock Lesnar. Triple H unveils the new world title belt and then calls out Brock Lesnar, who is all smiles with Paul Heyman by his side. Triple H uses this as a chance for a photo op. Paul Heyman then cuts a promo about Lesnar's win. Heyman even said that, if he had time, he would make John Cena a Paul Heyman guy. He finishes off by saying that there is no one who can beat Brock Lesnar in the WWE.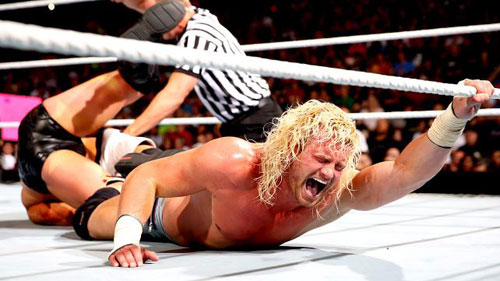 Dolph Ziggler defends his Intercontinental Championship
Dolph Ziggler is out first for his Intercontinental title rematch against The Miz. It looked like Ziggler hurt his knee during a leap frog and Miz took advantage of that, which should set up well for the figure four. Miz locked in the figure four but Ziggler made the ropes for the break. Interestingly, the match ended when Dolph Ziggler was counted out, a strange move where the face kept the title through count out. Miz angrily attacked Ziggler after the match but Ziggler hit the Zig Zag to stand tall.
Backstage, Renee is with Jack Swagger. Swagger said he is a Real American, and real Americans never give up and keep fighting. He then came to the ring without Zeb Colter (who was kicked in the head last night by Rusev). His opponent is Cesaro. Swagger twice tried to win with the Patriot Lock, but Cesaro kept making the ropes and then hit the Neutralizer for the win. Bo Dallas came out after the match. He said that 318 million Americans were let down by Swagger. Swagger just needs to Bolieve (the fans chant with him).
Backstage, Renee is with Chris Jericho. He said that Bray Wyatt has no soul and is different than anyone he ever faced. However, Jericho then said his fans are better than any other fans in the universe.
A Big Six Man Matchup
Up next is a six man tag team match. Randy Orton teams with Rybaxel to face off with Roman Reigns, Sheamus and Rob Van Dam. The fans are, interestingly, chanting for Ryback. "Ryback Rules" and "Feed Me More." This is an awesome crowd. Interestingly, it was Rob Van Dam who picked up the pin with a frog splash onto Curtis Axel in what might be RVD's final appearance before his latest hiatus.
Backstage, Randy Orton is walking and sulking. Ric Flair comes up and says they should talk about Roman Reigns, but Orton blows him off. He tells Flair to keep away from him or he will remind him why they used to call Orton the Legend Killer. Up next, Bray Wyatt delivers a backstage promo. Bray calls himself the new face of salvation.
The Usos are out next. They take on Goldust and Stardust and the crowd is split down the middle on who they want to cheer for. The end came with Stardust picking up the win for his team with a cradle and this should earn them a future tag team title match.
Rusev and Lana are out next. While they are talking, Mark Henry is out (twice in one night). He talks about American pride. He also mentions how he represented America twice in the Olympic Games. He said that he has no problem with any country that respects their flags, except the way "you Jackasses do it." Lana starts to say something and he yells "I'm not talking to you." He then calls Rusev "boy" and offers him a tour through the Hall of Pain. Rusev attacks but Henry fights back and hits the World's Strongest Slam. He then tells Lana to step aside and hits the Big Splash to leave Rusev lying.
John Cena will return to WWE Monday Night Raw next week.
Seth Rollins vs. Dean Ambrose
Jerry "The King" Lawler is in the ring to announce the stipulation the fans chose for the Seth Rollins vs. Dean Ambrose match. Falls Count Anywhere wins. Dean Ambrose is out first. Seth Rollins is out and the match gets underway. Wow.  The end started when Ambrose threw a half dozen chairs into the ring in a big pile. He went to superplex Rollins into the chairs but Rollins reversed it and hit the powerbomb on the chairs. Ambrose kicked out. Kane then showed up at ringside. Rollins then brought out a table, which the fans loved. Ambrose put Rollins through the table with a superplex and then hit the Dirty Deeds. Kane pulled Ambrose out of the ring but Ambrose fought off both men. Ambrose set up to hit the Dirty Deeds onto the announcers table but Kane stopped him and choke slammed him on the table. Rollins then hit the Curb Stomp on the table. Then, Kane moved another table and there were concrete cinderblocks under it. Kane put Ambrose's head on the cinderblocks and Seth Rollins hit the Curb Stomp on them and that ended the match. Seth Rollins stood tall to end WWE Monday Night Raw.