San Diego Comic-Con 2014 is underway and a ton of news and updates to the most anticipated geek properties will be flooding in. The first night saw some pretty cool photos arrive. While it wasn't the full costume, the cape and cowl from the upcoming Batman V Superman: Dawn of Justice was on display and Slash Film got the SDCC 2014 photos.
Check them out below: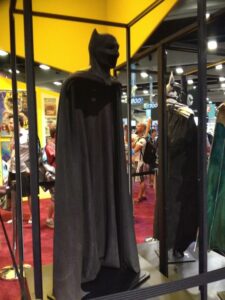 What we already knew heading into SDCC 2014 was that the costume was going to be based on the Frank Miller Dark Knight Returns storyline and Kevin Smith has been gushing about how great the costume looks, calling it something we have never seen before.
I still don't like how the cowl isn't supposed to allow a lot of head movement, but we'll know more when we actually see the entire costume put together. Either way, these SDCC 2014 Batman images raises the anticipation, and that is exactly what Comic-Con is all about.
Check back to Renegade Cinema for SDCC 2014 updates throughout the weekend.