J.J. Abrams has moved on to direct Star Wars: Episode VII, which may seem a betrayal to Trekkies, but raises hopes in die hard fans that the newest addition to the Star Wars universe may actually be worth watching. Abrams is still on board to produce, but leaves a vacancy on the set of Star Trek that will be filled by Producer/Writer Roberto Orci, who will become the new Star Trek 3 director.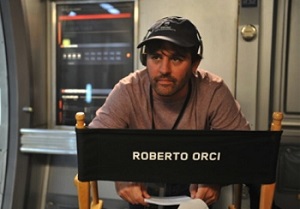 Roberto Orci will take to the Director's chair for the first time in his career on the latest addition to the Star Trek alternate timeline franchise. Though he hasn't directed before, he has worked closely with J.J. Abrams on the first two Star Trek flicks, co-writing both films. The decision to put Orci at the helm has many skeptical, and some downright nervous.
Roberto Orci lobbied for the job, and Paramount and Skydance Productions have decided to take a chance on him, handing him the reigns regardless of his lack of experience. J.D. Payne and Patrick McKay are co-writing the latest installment, after Orci and Alex Kurtzman decided to part ways as writing partners. Kurtzman wrote on the first 2 Star Trek films in the series, so it will be interesting to see how much of the scripting talent was from his hands. Will Orci carry on the feel of the previous movies, or go in a different direction than that which was established by Abrams? I guess only time will tell.
No plot lines or casting rumors have been released as of yet so the Star Trek 3 director news is the first to come from the new production. Keep your eyes peeled for the latest Star Trek news at Renegade Cinema.
Source: /film