Johnny Depp Movies
Donnie Brasco
Eric Norcross: One of the few movies I know him from where I forget that it's Johnny Depp. Somehow, some way, he managed to get lost into the title character, paralleling the way the real FBI agent got lost while under cover. Amazing film, amazing performances all around.
Ed Wood
Derek Johns: Ed Wood is easily my favorite Johnny Depp movie and it also happens to be one of my five favorite movies period. Edward D. Wood Jr. wasn't the first guy to direct bad movies and he certainly wasn't the last (I'm talking to you Michael Bay). What helped make his craptastic films stand out though was that Wood made them with a passion that was only matched by his incompetency and Depp portrays him perfectly. he plays the role with equal parts ambitious,hopeful, oblivious with a little used car salesman mixed in. Helping to make the film more awesome are Martin Landau as the over the hill horror icon Bela Lugosi. The Burton/Depp collaborations may have been sub-par in the last few years but that still doesn't take away from the greatness of this underrated classic.
Calibertholomew Winfield: This is a film that unfortunately gets over-looked like crazy. Arguably Depp's best work, that's supported by a fantastic cast, including one of the best performances ever via Martin Landau. The beautiful black & white sets the tone perfectly for Ed's world, as we follow him through his triumphs & failures. It's an uplifting & inspirational movie that tells you to see your dreams through, and disregard the naysayers. Really, it's a movie that I'll never be able to say enough about.
Pirates of the Caribbean
Caleb Masters: Johnny Depp is undoubtably one of the best actors working in the business and he's got a bit of a niche for playing off the wall characters. I'm a huge Jack Sparrow fan! I think he's one of the best original character creations of the 21st century and Depp deserves most of the credit.
Sadly, the character has grown less exciting with each entry of the Pirates franchise, but I think his first outing in Curse of he Black Pearl is absolute dynamite. It may not be the most dramatic role he's done and I can hardly say it's his best performance, but Pirates of the Caribbean: The Curse of the Black Pearl is a massively surprising movie that was tons of fun and probably the most inspired non-superhero blockbuster of the 21st century.
Edward Scissorhands
Rick Tym: Edward Scissorhands is hands down my fave Depp film. If the film didn't exist and I told someone the idea I would probably be met with grumbles and shaking heads. But a concept that could have been anything but beautiful and heart-wrenching was exactly that, in no small part to Depp's performance. Just a quirky, moving, joyous and transcendant display of acting.
Tamica Phipps: I've always been a big fan of Edward Scissorhands and Cry Baby. Both characters are way out there but that is Classic Johnny Depp right? I'm also a fan of Pirates of the Caribbean.
Benny & Joon
Ruby Le Rouge: Hmm, The first one that comes to mind would be Benny & Joon, I think for nostalgia more than anything else. Plus I love a movie that plays homage to other movies genres and movie history.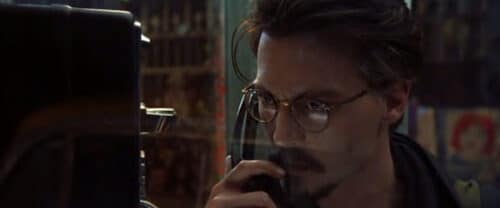 The Ninth Gate
Bethany Lewis: The Ninth Gate (1999) directed by Roman Polanski. The first time I saw it, I hated it. It made me feel weird and uncomfortable, but there was something compelling about it. I kept thinking about it, so I watched it again, and I still kind of hated it. But then I watched it again and again, and I keep watching it every now and then for the past few years. I still can't figure it out. I hate it, but I love that I hate it, which makes me love it. It also happens to be one of Johnny Depp's most interesting characters and best performances. He's unapologetically selfish and slimy, but he's charming and intelligent and pernicious. The character takes a strange, diabolical Indiana Jones type journey motivated by money and ends up obsessed by the same satanic dreams that drove all his adversaries to their insanity and eventual doom. In the end, it's still all about greed, but greed of a different, more corrupting kind. It's pretty twisted and creepy, and feeds all our worst primal fears about Satan, Hell, and the absolute corruption of absolute power.
Fear and Loathing in Las Vegas
Shawn S. Lealos: I love Hunter S. Thompson. Sure he was a whack job, but he was one of the finest writers of my generation. I also love how much Johnny Depp studied Thompson before he made the adaptation of his Fear and Loathing in Las Vegas. For those who don't know the story, Depp and Thompson became close friends and Depp had access to a lot of Thompson's personal writing and journals to prepare for the role. After Thompson died, Depp was the narrator for the biopic of his life "Gonzo." He read from Thompson's notes using the same accent he used in Fear and Loathing, which made me go back to watch that film again and it still holds up well. Add in the fact that Terry Gilliam is one of the finest experimental filmmakers working in the business and you have a masterpiece. An actor in Depp, who respects the source material completely, an iconic and brilliant subject and a masterful filmmaker. It doesn't get much better than this.
What's Eating Gilbert Grape
James Cochrane: What's Eating Gilbert Grade is my favourite performance of Johnny Depp, for one simple reason, he isn't playing a caricature. Yes, I loved him in Ed Wood, and all the rest of the Burton films he was in. His Fear and Loathing performance was next to flawless, but his portrayal of Gilbert is simple, subdued, and wonderful. Johnny Depp is a great actor who, I suspect, gets more fun playing the quirky characters- and really, who wouldn't want to play Jack Sparrow, or work with John Waters. Movies are such crap shoot on whether the outcome will even be good that I get why one would want to only take films that give you pleasure. But in the beginning, after Benny & Joon and before Ed Wood, he took a simple role in a film that more people remember for a young DiCaprio than for the strong, warm centre that was Mr. John Depp II.

Blow
LJAY: Blow is one of those movies where you root for the bad guy. From George trying to win over his daughter or his wife. Even in the last drug run you want George to win to save his family.
What's Eating Gilbert Grape/ The Ninth Gate
Patricia Márquez: It's a hard choice between What's Eating Gilbert Grape and The Ninth Gate. On one hand, Depp embodied the ultimate indie male lead long before indie male leads were ubiquitous. His role as Gilbert is soulful, sad, and introspective. His innate and natural talent as an "every-man" actor has not been manifested since. On the other hand, The Ninth Gate is a trippy, mysterious mood piece in which Depp fully loses himself in character and relishes his role as a brooding, neo-noir intellectual. They are opposite roles, and both absolute delights to watch. Can't wait to see him in Transcendence. It's been awhile, man.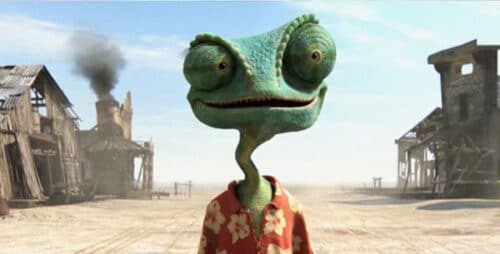 Rango
John "D-Rock" Dotson: I love many of the respected picks above, especially his roles in movies like Blow, Fear and Loathing, and Edward Scissorhands. However, I love me some Rango. Combined with spaghetti western elements, and a goofball Johnny Depp portraying a lizard, it doesn't get much better than this for animated films. Plus, we get an awesome Hunter S. Thompson reference in an animated movie, which could only be possible in Rango.