There are few people in Hollywood, if any, who can boast as long and as full a career as Mickey Rooney. He started acting in movies in 1926 when he was six years old and had worked continuously right up until his death on Sunday at the age of 93. His career spans ten decades (1920s – 2010s). That's 87 years of his 93 year life, and when you think about it, that's the majority of the entire history of film. He saw the coming of sound, the invention of television, and the popularization of the internet.
He was married eight times, the first time inexplicably to Ava Gardner. Fair to say, Rooney had a pretty long, ridiculous, and full life – and that's not counting his reputation for drugs, drink, and women. Chances are if you've ever seen a movie, you've seen Mickey Rooney, even if you didn't know it at the time. At the same time, given the pure volume of roles, if you missed a few Rooney movies along the way, it might be understandable. So here are a few movies to look out for when programming your Mickey Rooney retrospective this weekend.
Six Great Performances by Mickey Rooney
6. A Midsummer Night's Dream (1935)
This Max Reinhardt directed version of the Shakespearean sex comedy is awash with Hollywood stars, from the brilliant James Cagney as Nick Bottom to Olivia de Havilland as Hermia and Dick Powell as Lysander. The production is lavish and sparkly and lots of fun to watch, especially with Mickey Rooney as the most puckish of Pucks. While the famously diminutive Rooney was 15 at the time of the film's release, he looks closer to 10, making his Puck seem preternaturally intelligent. At the same time, his spastic enthusiasm and braying laugh does much to cement the otherworldly quality of the mischievous sprite. While in all honestly Cagney is the man to watch in this movie, Rooney is a Puck like you'll never see again.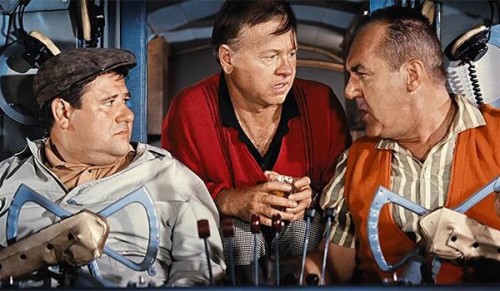 5. Its a Mad, Mad, Mad, Mad World (1963)
This is another movie filled with a cavalcade of stars – very like Around the World in Eighty Days (1958) in its casting of compelling leads and peppered with notable cameos – but is really unlike any comedy before or since.  Its basically a road trip movie where a bunch of different people try desperately to reach a hidden treasure before everyone else. Everyone gets into all sorts of crazy scrapes and adventures along the way, and Rooney's character Ding Bell is no exception. Teamed up with Buddy Hackett, the two make quite an over-excitable pair as they hire a drunk pilot (the ever languid Jim Backus aka Thurston Howell III) and end up flying the plane themselves – quite badly, in fact. It is a wonderfully entertaining movie, filled with more faces, names, and laughs than almost anything around.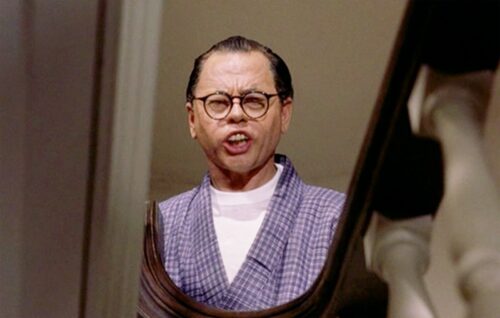 4. Breakfast at Tiffany's
Breakfast at Tiffany's is obviously among the most classic of romances and Audrey Hepburn roles, and one of the more complex and daring films of the time. Rooney, however, had the unfortunate pleasure of playing on of the most retrospectively racist and insulting comedic characters on screen as Holly Golightly's Japanese landlord Mr. Yunioshi. I don't think I have to mention that Mickey Rooney is not Asian, so that was the first mistake. The worse mistake was over-exaggerating his makeup and allowing him to yell constantly in a stereotypical parody of a Japanese accent. It is something else to behold and in supremely, hilariously bad taste. Really, all you can do is laugh at how terrible it is.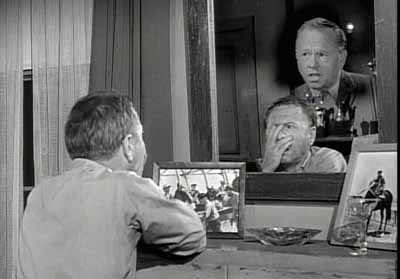 3. The Twilight Zone Episode 05.05: The Last Night of a Jockey (1963)
The Twilight Zone has always been a thoughtful, creative, and often times twisted show that revealed the weaknesses and strengths of humanity and the possible pitfalls of a fast approaching future. The show boasted an impressive list of guest stars and a penchant for black humor. The only proof of this you need is that the 5'2″ Mickey Rooney guest starred as a crooked horse jockey who, when he was at his lowest, wished he was big. He gets his wish and is overjoyed at his new stature until the racing commission calls him to tell him he's off the hook. This is great news until Rooney realizes he's now too big to ride – or really do much of anything else that he's used to. The episode ends with a panicked and distraught Rooney wishing with all his might to be small.
2. The Fox and the Hound (1981)
This is that Disney story about two friends who are kept apart by the social conventions of both the animal and the human kingdom. If you grew up with this story, you probably thought that Tod was a pretty cool fox – and maybe just a little bit foxy for an anthropomorphized cartoon animal. Little did you realize that the sexy voice coming out of that fox was none other than Mickey Rooney. Yep – Tod was voiced by the then 61 year old Rooney. Not exactly what you had pictured, was it? You maybe thought he was going to be more like that hot kid who voiced Aladdin. Sorry.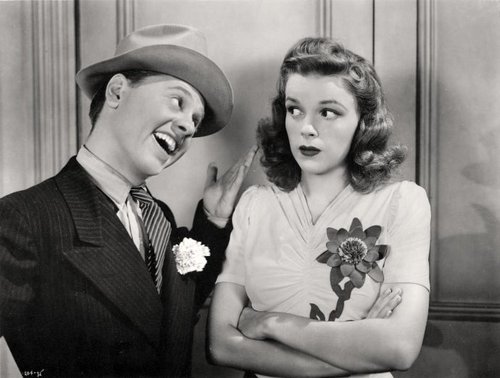 1. Anything with Rooney and Judy Garland together
This actually encompasses quite a few movies, including a few of the famous Andy Hardy home comedies of the 30s and 40s. Mickey Rooney came to stardom as a sort of boy next door figure, so it only made sense to pair him up with the classic girl next door Judy Garland. And they made beautiful music and comedy together in ever film they shared together. Off screen, the pair were the best of friends, and it shows in the chemistry they share on screen. They were both terrific showmen. And with Judy Garland measuring in at 4'11", she was one of the few Hollywood actresses who didn't tower over Rooney. It was a match made in heaven.