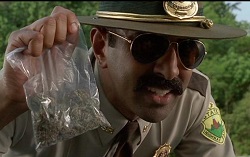 A new Cheech & Chong movie is in the works, and who better to bring it to us than the boys of Broken Lizard. More specifically, Jay Chandrasekha
r, the Director of loaded comedies like Super Troopers, Beerfest and Club Dread. 
The movie will be set at a fictional weed fest called Burning Joint. In an interview with CelebStoner, journalism for the canna inclined, Tommy Chong stated, 
"He's working a script right now for us, we've had some preliminary meetings. It looks really good. It looks really funny. It's
about us going to a festival called the Burning Joint. All sorts of shenanigans happen. It's going to be a lot of fun." and "They came at us with a rough idea and now they're fleshing it out and making it into a budgetable script," Chong adds. "We could start shooting this summer."
The comedy duo proved they are still smokin' in their recent series of shorts on
Funny or Die
, like
Cheech & Chong Read the Bible
and
Cheech and Chong's History of 420
. Though both actors have had prolific careers since, there hasn't been a full length joint effort since
Cheech & Chong's The
Corsican Brothers
in 1984.  With more and more states legalizing Medical Marijuana and Washington and Colorado legalizing cannabis across the board, it seems a prime time for a comeback. So, fans of 420, keep your eyes peeled and your Visine out for all the latest news on your favorite stoners here at Renegade.