Netflix, Amazon and Hulu have all started creating original content for digital streaming, now Sony is throwing their hat in the ring, bringing the comic book drama Powers TV series to PlayStation. Sony Pictures TV chose not to be left behind by the many networks that are jumping on dark and gritty comic books to make into television series, like AMC's Preacher and NBC's Constantine.
A Powers TV series has been long in the making, originally being optioned by Sony for film in 2001, then a pilot to be aired on FX in 2011, which was cast, shot and scrapped. Now Powers is back, to be the first show created for the PlayStation console.
The show based on the comic by Brian Michael Bendis and Michael Avon Oeming, will be written by Charlie Huston, with a new take on the original story.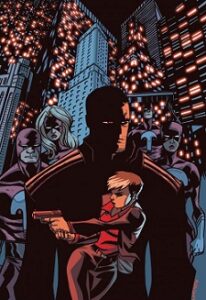 Huston, along with Remi Aubuchon (Producer of Falling Skies, Persons Unknown & Caprica) will be helming the project.
Powers is a pulp noir story set in a world of super powered citizens. A dark and gritty police procedural that follows Homicide Detective Christian Walker and Deena Pilgrim (not yet known if she's going to be part of the show), who investigate crimes involving supers, that they call in story 'powers'. Around 10 episodes have been ordered for the show, but an air date is still up in the air.  We'll keep fans of the comics up to date on any casting rumors or news that comes in the following months.
Source: Deadline