Photographer Will Vazquez crossed into filmmaking a couple of years ago with the well-received Quick Pick; his latest film, Murder in Miami, is a much wilder beast – a sexy, thrilling murder mystery that's part De Palma, part Zalman King.
Was it only natural that a Playboy photographer one day direct a movie about sex? Do you see it as a natural progression?
Shooting for Playboy, I learned a lot about how to light women in the Playboy style. I also learned how to pose models to imply eroticism, without revealing too much. Leaving some to the imagination is more powerful than showing everything. When I transitioned to movies, I chose stylistically, to light women and make them look as beautiful as possible, applying many of the techniques I had learned, but now with movement. I love how actresses were lit in the golden age of Hollywood. Women always looked great in their close-up, with the soft-focus filter and all.
Where does the love primarily lie – in filmmaking or in photography?
I love both filmmaking and photography and they go together but are very different. Films are of coarse, pictures in motion, a visual and aural experience where you can tell an engaging story with a sequence of images. In photography, you need to tell the story in one single frame. But you can't make a viewer of a photograph cry from the picture of a stranger, or cringe in fear from what they're seeing. With a thriller movie, you can play an audience like a piano, and choose when to make their emotional levels peak and lower with what they're seeing and hearing. Movies are the most powerful art form.
When and how did the idea for "Murder in Miami" come up?
A few years back, I saw on the news a story about an out of town model who was murdered after leaving a club in Downtown Miami one night. I thought it would be interesting to tell a story about a series of fashion model murders, using Miami's new gleaming skyscrapers as a backdrop. Miami is, without a doubt, America's sexiest city. I hammered out the script in 4 months.
What films and filmmakers would you say the movie is inspired by?
I'm a huge Alfred Hitchcock fan, all the way from the silent classic "The Lodger" to "Psycho". Hitchcock in turn, inspired Brian De Palma, who is the king of the "erotic thriller", and who stylistically elevated the genre to a level that no other director has been able to achieve since. De Palma's "Dressed to Kill", "Blow Out" and "Body Double" are in a league of their own. I also was inspired by Bernardo Bertolucci's "Blow-Up", about an English photographer in the sixties during the peak of Mod Fashion. This film really helped define, up to this day, how fashion photographers are perceived. Bertolucci, together with actor David Hemmings, made the profession of fashion photographer the coolest job in the world.
Are your cast all relative unknowns? How did you discover them?
I cast all my lead actors back in Miami, where I shot the entire movie, and many of them ended up moving here to Los Angeles and have done some good work since. The actor pool is very small in Miami because many talented actors end up moving to NYC or LA to pursue their careers. But thankfully, I was lucky that I knew Cindy Schirmir, who I had gone to Junior high School with, and now she runs Stellar Talent Agency in South Florida. Se was able to help me find local top-notch talent. Cindy really is the best in Miami. Our lead Joseph Myers is an up and coming talent. This guy played football in college, has great mechanics for an action hero movie and has all the sensibilities to play in a period drama piece. Our Latin beauty lead Caroline Gutierrez, is a top fashion model and has worked on a bunch of new film projects out here in LA. She has a unique look, and we'll be hearing a lot about her in the coming months.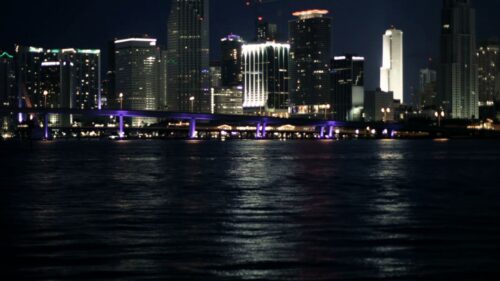 What are you working on now?
We're putting the final touches on the script; a Science Fiction picture set in 2060 about a guy that builds an android to serve him. It's a futuristic Frankenstein tale that tells us we may not be able to control the artificial life we will eventually be able to create one day. Of course, with a little bit of sex in the story.
Where can we see the film?
"Murder in Miami" will be out in DVD and Blu-ray on February 25th, and will be available at Redbox, Netflix and more.