The second week of Face Off starts in a corn field, our contestants are lead by Hostess McKenzie to a giant crop circle and the theme of this week's challenge, Cosmic Conspiracy. Separated into teams of 2, the contestants open a suitcase with a dossier including an image of a crop circle and a description of that alien's cry for help, with that they must create an alien life form that conveys that message.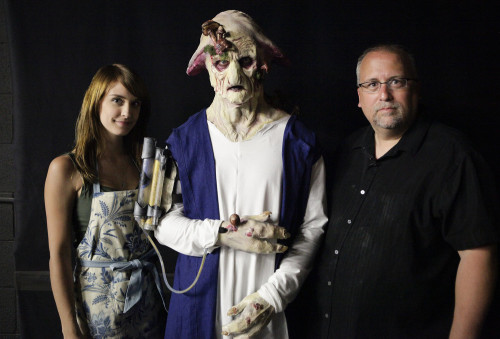 The Teams:  Niko & Corrine; We Need Water, Chloe & Graham; Gravity Changing, Cat & Matt; Our Sun is Dying, Daran & Tanner; Ice Caps Melting, George & Bethany; Polluted Toxic Environment, Tess & Daniel; Overcome with Disease, Rashaad & Tyler; Global Famine
The Judges must see the alien's dire circumstances in the contestant's designs, and all but a couple of the teams start off with strong concepts. Matt and Cat have a rough beginning, unable to come up with a clear idea.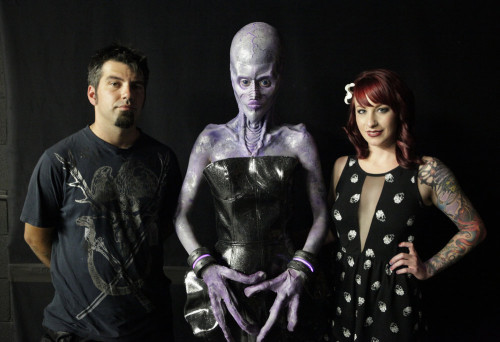 The sculpts this round are strong, save for Matt and Cat's, who continue throughout the episode to have trouble working together. The paint jobs this week are sub par and muddy, with some dubious color choices.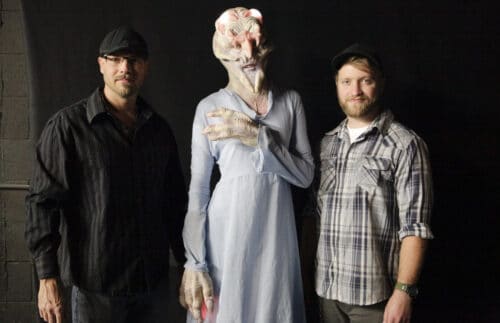 Going into judging the contestants are nervous, for good reason. The guest judge this week is Scott Stewart (Defiance, Legion, Dark Skies). 

Safe: Rashaad & Tyler, Graham & Chloe, Tess & Daniel
Strongest: Niko & Corrine impress the judges with their cohesive design and subtle but effective paint work,  Daran & Tanner's female alien pushes the envelope with their gelatin and poly foam mixture and the soft hues in their paint job.
Weakest: George & Bethany's ripped edges fail to impress, Cat & Matt's bat like creature is a failure with its muddy brown paint.
Team voted best of the week: Niko & Corrine
This week's winner: Corrine
Team Voted Worst of the week: George & Bethany
Voted Out: Bethany
This episode proved to be frustrating all around, from the start of drama to the judge's decisions. I think it was a poor choice voting Bethany out and letting Matt remain, being his second week in at the bottom looks. I also thought that the work done by Daran and Tanner was far more impressive and  deserved the win, combining components not often seen in fabrication and a superior paint job.