D-Rock's Top 5 Movies of 2013
Well my fellow Renegades, it's been a great year for film! This is one of the first years that I had trouble finding my top 10 because there was so many great flicks to choose from. Before we get started, here is the first Five that barely made the Top 5 list:
10) Upstream Color
9) Gravity
8) The Way Way Back
7) Wolf of Wall Street
6) This is the End
And now, without further delay, here is my top five selects from 2013! Let's begin!

#5. Captain Phillips
It's been quite a while since I could truly appreciate a true Tom Hanks performance. The last film I can remember captivating me on the same level was Road to Perdition. This year brought a refreshing reminder of why Hanks is such a powerful actor. In Captain Phillips, we see Hanks travel to emotional lengths we haven't seen in a long time. In fact, we probably haven't seen him turn in a performance like this since Cast Away.  With the high octane direction executed by Paul Greengrass, and Hanks ability to bring a sympathetic role to life, this turned out to be a match made in cinematic heaven. Also, huge shout to Barkhad Abdi for his incredible breakout performance as Muse, the leader of the Somali pirates who hijacked the ship.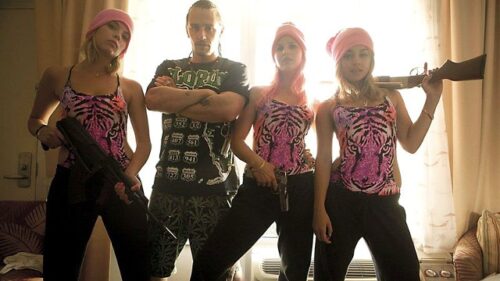 #4. Spring Breakers
Where do I even begin to discuss the strange beast that is Spring Breakers? Harmony Korine's vision of modern day youth is one of the most magnificent statements on pop culture in a long time. The message is embedded with a subtle touch, but the delivery is anything but. Just like Scarface, the idea of the epitome of the American dream is questioned and whether we actually understand its meaning. Through the intensified characters of Alien and four college girls seeking the ultimate Spring Break experience, our ideas of pleasure and cool are thrown in our faces, and turned up all the way to eleven. Spring Break forevvaaa!!
#3. 12 Years a Slave
Of all the films to hit in 2013, none brought me to tears more than 12 Years a Slave. Steve McQueen is one of the best when it comes to focusing on a tough topic. In Hunger, he apologetically depicted the painful stakes men will put themselves through for a better life. That film harshly conveyed the effects of starvation and the human condition. Sex and addiction was tested to the extreme in the emotionally charged film, Shame. So, it's no big surprise that a film focused on slavery would be in the right hands for Steve McQueen.
The story of Solomon Northup could almost be a horror story if it weren't based on a real life event. I've heard ignorant statements in the past claiming these actions were okay because back then the slaves were used to it. It was normal. McQueen's vision was not only terrifying but brings a much needed reexamination of America's past mistakes. Doesn't matter when you get thrown into the horrific life of a slave, no human should face the brutality it brings. It's not my number 1 pick, but 12 Years a Slave may be the most important on my list.
#2. Her
I have to be honest, I wasn't as excited to see this film as much as the rest of my crew. Now having seen it, I cannot stop thinking about it. Her could easily be the most relevant statement on modern day human connection and relationships we have yet to see. We're approaching a new era where people can maintain bonds and intimacy across worlds. Not to mention we spend most of our time using our cellphones, laptops, tablets, etc. Even Facebook has made it easy to maintain a social life without the need of going outside.
Needless to say, it's not unrealistic to believe the ideas in Her may one day be possible. We're not far from having an operating system that can listen to us better than any human possibly can. It's also not impossible to believe as technology progresses that human loneliness might as well.This is the very nature of Her that haunts me as well as makes me love this movie. Spike Jonze really captured our world and what may become of it one day. Between the performances by Joaquin Phoenix and the amazing work of Scarlett Johansson as a female operating system, this is easily one of the most relevant romance movies of 2013.
#1. Short Term 12
I realize very few are aware of this movie and it irritates me beyond belief. Especially the fact that it's going unnoticed because Cinedigm doesn't have the awards budget as most major studios. That said, I connected with Short Term 12 more than any film in 2013. Set in a home for underprivileged children, the movie takes us into the minds and souls of the kids, and the people who are trying to give them a happy life. After seeing the film, I did research on whether writer and director Destin Cretton had experience working with troubled youths, and come to find out that was his first job coming out of college. The result radiates on screen because only someone with experience can make a film so bold and true.
Maybe I related to the film's characters more or maybe it is just such a triumphant piece on childhood youth. Whatever the case, Short Term 12 is amazingly crafted with pure heart. I felt such honesty in the performances, especially from Brie Larson who is going to be shamefully overlooked this Academy Awards season. I can't say it enough, see this movie!
[fresh_video url="http://www.youtube.com/watch?v=qhS6tvSb0UQ"]