WCW Champions as of September 18th, 1995:
Heavyweight: Hulk Hogan [defeated Ric Flair, July 17th, 1994]
US: Sting [defeated Meng, June 18th, 1995]
TV: DDP [defeated Renegade, September 17th, 1995]
Tag-Team: Harlem Heat [defeated Dick Slater & Bunkhouse Buck, September 17th, 1995]
Live from Johnson City, Tennessee
Hosted by Eric Bischoff, Steve "Mongo" McMichael, and Bobby "The Brain" Heenan
As Bischoff runs down tonight's show, he says there's an emergency in the back.

We cut to Mean Gene in the back as an ambulance arrives. Inside are Taskmaster & The Giant, and he talks about how great it was choking out Hulk Hogan for a 3rd time last night at Fall Brawl. Mean Gene then says if his father knew he were messing around with the Taskmaster, he'd be very upset. The Giant retorts that if his father were alive, he'd be right beside him. Oh, in case you're wondering, WCW initially said that The Giant was Andre The Giant's son. Very classy. Pinkie up.

American Males vs The Harlem Heat [C] – WCW Tag-Team Championship
American Males has to be one of, if not the lamest tag-team name ever. American Males? Literally calling them "The Guys" would have been exactly the same. Or how about "Wrestlers". The Blue Bloods theme starts, only to be cut quickly as The Harlem Heat put the boots to them. The Heat come out, and now it's them vs Human Guys Of American Decent for the WCW Tag-Titles. Wow, I forgot how crisp Harlem Heat was back in the day. They're hitting some brutal kicks & slams all over the place, seemingly not intimidated by The Homosapein Non-Females From North America's attire of dress pants & suspenders. The match is rolling along, when all of a sudden Buff reverses a pump-handle slam on Booker T into a roll-up for the pin & the titles. This would be one of those instances where if I were Booker T, I'd be backstage before the match saying "Look, I'm cool with losing. But please, can I not lose to him while he's shirtless but still wearing suspenders? I'd sooner lose to him if he were wearing pasties." The Males pretty much had their asses handed to them this whole match, while The Heat looked crisp. I'm looking forward to more of them in future Nitros.
Bagwell pins Booker T with a reverse roll-up at 4:44 to win the Tag-Titles | **
Promotional consideration brought to us this week by: Big Hurt Baseball from Acclaim [available on Game Gear, Game Boy, Super NES, and The Genesis], Big A Auto Parts, and BEEF SPICE EXCITEMENT SLIM JIM!
Mean Gene is in the ring for another interview with Ric Flair. Let's hope this week he gives us the measurements of Luger's forearms & calves. Once he makes it down to the ring, he talks about Arn making a huge mistake by bringing Brian Pillman into their business. He puts Pillman over, and promises to lay down some chops tonight in their match.
On WCW Saturday Night we're gonna see Sting vs Steven Regal, Cobra vs Craig Pitman, plus an interview with Dusty Rhodes.
Paul Orndorff vs Johnny B. Badd
The night before at Fall Brawl, Badd took on Pillman and had his eye split open, so now he's rockin' 9 stitches and giving Orndorff a target. Unfortunately a commercial break eats up most of this match. The last few minutes they were trading momentum until Badd tried a piledriver, Wonderful reversed it, then Badd tried to turn that into a roll up, but Orndorff grabbed his legs and did the ol' Bret Hart pinning Bulldog in '92 for the win. What we saw looked decent, and it's a shame it was eaten up with commercials about the terrible Batman Forever Game, and advertisements for 2 different nights of movies on TNT. None of which were MonsterVision, might I add.
Orndorff pins Badd at 6:42 | *
We're treated to some footage of when the WCW Superstars were doing some cameos in the episode of Baywatch. Macho looks to be repping around 250lb on a weight-bench, with a gaggle of adoring females watching, when The Taskmaster shows up dressed like a lifeguard and begins choking him out, with the now clearly obvious fake weights. People, one of'em happens to be Flair, pull him off the Mach' before any serious badness can go down. Man, I bet The Shark was loving it while they were at the beach, and probably tried to come up with a thousand reasons for them to come back. "No, I'm telling you, we do better business doing beach shows! No! It has nothing to do with the fact I feel better about being an adult male in my 40's dressed as a Shark when we're at least in a fitting scenario!"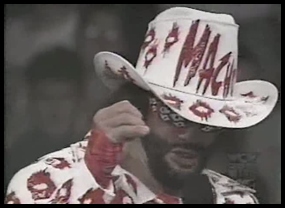 Mean Gene is back in the ring, this time to interview Macho Man. He's asked about Flair helping him, and Mach' says he couldn't care less. He runs down Luger, saying it's clear where he stands, since he cheap shotted him last night. Mean Gene says a lot of people say it was a mistake, but Mach' ain't buying it. Shit, he ain't even putting it on Lay-A-Way. He tries to goad Luger into a fight right then, but Gene ain't having it.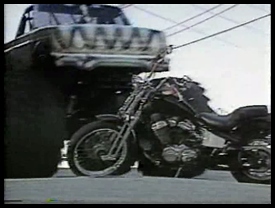 We get clips from WCW's Sunday show, The Main Event. Hulk Hogan rides up with his Harley, and chats with some Hulkamaniacs. Just then, a monster truck shows up out of no where to run over his motorcycle. Turns out The Giant is the one behind the wheel! Oh man, it's a shame that it only makes sense for wrestling feuds to be solved in the ring, cause I'd love to see these two have a monster truck battle on top of a building! That'd be extremely entertaining! Huh, that's funny. My spell check keeps trying to change the word "entertaining" to "stupid".
We then get footage of Fall Brawl where the Giant came out and delivered a Steven Seagal style neck-breaker. I am in no way kidding, either. He seriously did the Steven Seagal neck-breaker. Really, Hogan should be dead, but instead it simply put him in the hospital.
Brian Pillman vs Ric Flair
They cram a lot into this one, and kick a fast pace. They battle to the outside, off the top rope, exchanging chop for chop. It's a pretty good match that would have been excellent had they been given more time. Flair eventually slaps Pillman in the Figure 4, getting himself a submission victory. Afterward he hops on the mic and tells Arn Anderson to get out here so he can receive a beating. Arn doesn't seem to keen to collect his prize, so he negates The Nature Boy's offer. Flair then says if not this week, then fine, he'll see him next week. Whooo!
Ric Flair gets a submission win over Pillman at 5:14 | ***
Next week it'll be the Nitro debut of the Disco Inferno as he faces fellow dancing sensation and future tag-team partner, Alex Wright. Col. Rob Parker will be around with his client Kirasawa, we'll see Macho Man vs The Taskmaster, and Lex Luger faces a guy in a dragon mask. They don't say who it is, so I guess you'll have to tune in to find out. Or perhaps call the WCW Hotline!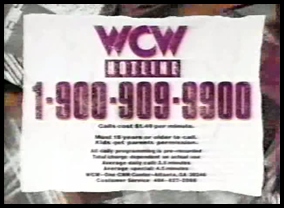 Analysis
Another fun show. Dug the tag-match, got an interview with Macho, plus we saw a damn fine TV match between Pillman & Ric Flair. What more could one ask for, really? Other than seeing someone give Hulk Hogan a Steven Seagal style neck-snap. Oh snaps! We did see that!