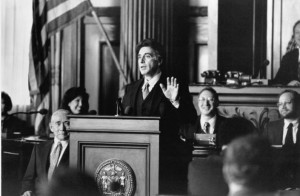 "The only thing new about the world is the history you don't already know" -Al Pacino in City Hall
This year, New Yorkers elected a new Mayor to replace Michael Bloomberg as the leader of the most important city in the western world. To honor the changing of the guard, so to speak, I've decided it is the perfect time to write up about one of my favorite New York City films. Inspired by New York City's political turmoil in the 1980's, CITY HALL is a phenomenal achievement in filmmaking and a highly under-appreciated cinematic masterpiece. Directed by Harold Becker, the 1996 film stars Al Pacino as NYC Mayor Pappas, John Cusack as Deputy Mayor Calhoun and co-stars Bridget Fonda, Danny Aiello, Martin Landau, David Paymer, Anthony Franciosa (in his last movie) and a variety of other wonderful actors. Here is my reasoning for why City Hall deserves the Criterion Treatment (or an equally thoughtful release).
*Spoilers* below for anyone who hasn't seen this movie.
Elements of the film's plot come straight out of recent New York City history (as recent as the '80's can be) with only a few tiny details altered and fabricated, in an attempt to avoid basing the movie on a "true story". In the film, a little boy is shot to death in Brooklyn and immediately a controversy is born: who's bullet was it? the cop or criminal? John Cusack as the Deputy Mayor, makes it his priority to solve, quash and own the case. Danny Aiello's character is Brooklyn Borough President Frank Anselmo, who is loosely based on former Queens Borough President Donald Manes, a real world politician who committed suicide after he and his staffers got caught for their involvement in a real estate kickback scheme. In the film, Anselmo is advocating for new subways, real estate development and everything else that borough presidents in NYC advocate for. Oh, and he's connected with the mob.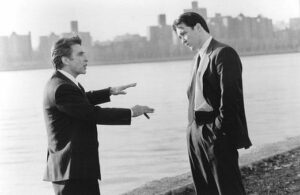 A screenplay like City Hall is, by itself, a project most screenwriters would shy away from, if they're even lucky enough to be offered the job. It takes talent and a total understanding of the world in which it is set and the people it features to write dialog like that words spoken in the film. Each and every character, but mainly the political characters, seem to speak in a prose and style that I haven't heard in any other film. It's unique and somehow real, not just for the fictional universe in which it is set, but somehow manages to be a reflection of our own, real world politicians. The hard core political characters speak in simplicity, often utilizing analogies to communicate with one-another.
As Left Field Cinema wrote in their own article on the movie, this is a work that has everything going for it but somehow, some way, was overlooked by the majority of the film going community.  City Hall is complex and sophisticated at almost every single level and much of the subtext and political sh*t talk is likely to go over many heads, but that's the beauty of this film: it takes its audience for granted and just plays out the way life plays out. It doesn't need to explain every little item to you, in much the same way George Lucas didn't need to explain his universe – he just let the story of two droids and a farm boy play out naturally. Additionally, the film is intelligent at its core and execution. Aside from the murder in the opening of the movie, it has no action or real thriller elements, but is still enthralling and engaging.
City Hall is a story about figuring out and cleaning up one hell of a mess and is a relatively realistic depiction of what is portrayed as a highly political process. It's a story about New York City at the government level and it's accurate.
A special release of City Hall could include a number of features, ranging from documentary content on what goes inside the real NYC City Hall, NYC Mayoral history etc. and the political history and current structure of the city to biographical information on influential New York City politicians. New York is unique in and of itself, as a city, and many outsiders don't quite understand how the government is structured. A special release of City Hall would allow for the opportunity to create content to help breakdown the political structure and educate non-New Yorkers on the "boroughs" and all the positions that come with managing one of the greatest cities in the world. City Hall could easily be that "go to DVD" whenever anyone is interested in going into politics.
What I'd be truly interested in is Harold Becker himself, his take on film making, how he got involved with this project and his experience working on it. He hasn't done a lot of work as far as film direction goes, but the work he has done is phenomenal. His approach and ideas are a mystery to me – I want to know more!
Content involving the screenwriters are a must-have in a movie so well written it would be insulting to them and us if this didn't happen. The top credited screenwriters are Paul Schrader (Taxi Driver), Nicholas Pileggi (Goodfellas, Casino), Bo Goldman (Scent of a Woman, Meet Joe Black, One Flew Over The Cuckoo's Nest) and Ken Lipper who actually served under the late Ed Koch as the Deputy Mayor of Finance & Economic Development. No wonder the script flows like the best written prose in Hollywood history.
City Hall Movie Trailer:
[fresh_video url="http://youtu.be/Iow4oAxBU9s"]