Matt Dillon, Tim Hutton, Michael Rappaport, Noah Emmerich – are all just a few of the huge cast of amazing actors that starred in the 1996 Ted Demme film BEAUTIFUL GIRLS – one of the best written, acted and directed films I've ever seen. The script in and of itself is worthy of all the awards in all the worlds and today I present my case for this film's inclusion into the Criterion Collection. It's not a film that a lot of people know, at least, in the circles I run in. Many of the film buffs I talk to have never seen it, although to their credit have at least heard of it and know of some of the actors that worked on it. The only friend of mine that has seen it and knows the film well is my pal Matt and that's mainly because he attended the premiere.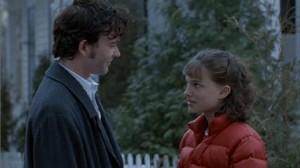 The screenplay for Beautiful Girls was written by Scott Rosenberg, the screenwriter behind High Fidelity, Disturbing Behavior and even did re-writes for Armageddon (which happens to have its own Criterion spine and according to the commentary, the "animal crackers scene" in Armageddon is actually a cut scene from Beautiful Girls, which was re-written by Scott for Ben & Liv). The screenplay is layered in such a way where Rosenberg has seamlessly and realistically weaved the lives, worries and dreams of his characters in a such a way that you feel like you've been dropped into the small town where it is set and life is going on as usual. It's a town we are familiar with and includes people who completely belong there. There's someone for everyone and so relating to the story isn't difficult.
As a Maine-NYC transplant I always related to the character Willie Conway, played by Tim Hutton. He's a professional piano player that moved to New York and is visiting his hometown to attend a high school reunion. Not that I'd ever attend any reunion from that period of my life, but the feeling of going back and seeing what has become of your peers is always a mind blowing experience – and sometimes a little disconcerting. Hutton plays it well and Demme solidified those feelings on film in such a way that no one else ever has (yet).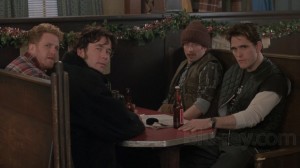 The cast of this movie is a who's who of the Hollywood talent pool and in addition to Matt, Tim, Michael and Noah, the cast also includes David Arquette, Pruitt Taylor Vince, Lauren Holly, Annabeth Gish, Uma Thurman, Mira Sorvino, a young Natalie Portman, Martha Plimpton and Rosie O'Donnell as one of the funniest characters in the movie. There are many others. Sundance award winning filmmaker Matthew Harrison as Costello in his comedy meta-movie MY LITTLE HOLLYWOOD says about Beautiful Girls that it's a "cinematic masterpiece" and even includes a scene that was shot during the premiere screening of the movie (filmed guerrilla of course).
Some of the special features that I personally would love to see in a Criterion of beautiful girls would include:
Audio commentary by filmmakers and screenwriter.
Second audio commentary with actors talking about their characters and working on the film.
The cast clearly had a rapport with one another, some outtakes, behind the scenes and deleted scenes, if any, have to exist somewhere!
Promotional material, press feedback *including this article :), and biographical material on the filmmakers, writer and cast.
Watch the trailer:
[fresh_video url="http://youtu.be/0AvkCamSj5o"]