Depending on how much you cared, The Amazing Spider-Man actually had a stellar composer from James Horner, who also did the music for Titanic. What I find funny is the guy who composed one of the most signature themes in romance blockbuster history failed to find a decent theme for the James  Garfield take on Spider-Man. Not the guy didn't try, he just didn't connect a decent theme. So, when the world needs a powerful superhero sound, who does the world call?… Hans "f%#king" Zimmer!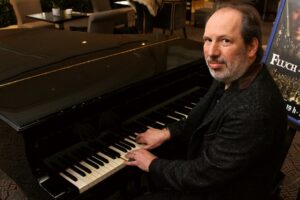 Sony and company announced today that the new film would use Zimmer's spidey senses to bring the sequel to life. Color me excited. Not only is he working alone, but he has brought on board a super league of extraordinary gentlemen to make the new rendition unique. Here is the musical Sinister Six for the new film:  There is Hans Zimmer, Pharrell Williams, Johnny Marr (The Smiths), Michael Einzinger (Incubus), and Dave Stewart (Eurythmics)… Holy Sh*t!

Honestly this is the coolest thing I've heard since Daft Punk was hired for Tron: Legacy. So far, everything with the new sequel seems to be shaping out better than the last one. I guess look at this way, even if the film disappoints– which it probably won't– at least we got a kick ass soundtrack out of it.
Here is the press release below!
CULVER CITY, Calif., October 31, 2013 – Oscar®- and Grammy-winning composer Hans Zimmer will work with Pharrell Williams, Johnny Marr, Michael Einziger, and Dave Stewart to create music for The Amazing Spider-Man™ 2, it was announced today by Lia Vollack, president of Worldwide Music for Sony Pictures.  The film, directed by Marc Webb from a screen story and screenplay by Alex Kurtzman & Roberto Orci & Jeff Pinkner based on the Marvel Comic Book by Stan Lee and Steve Ditko, is produced by Avi Arad and Matt Tolmach.  The Amazing Spider-Man 2 will be released in theaters domestically on May 2, 2014, and international release dates commence April 16, 2014.

Commenting on the announcement, Zimmer said, "Marc and I were talking about Spider-Man, and as the word got out, so many of our friends and musicians started calling us up, wanting to be a part of it, because they love Spider-Man. That was the thing that united all of us – the great love for Spider-Man. With all of these hugely talented people wanting to join us, it was Marc who said, 'Why not start a band?' Marc and I have had a great start jamming with everybody, and we still have a few surprises up our sleeve."

Vollack added, "This kind of collaboration is only possible because of who Marc Webb is – not only a director but also a musician – combined with who Hans is and what Spider-Man means to so many people. Nobody has ever approached film music in this way before and

this likely can never be replicated. We're huge fans of Hans, Pharrell, Johnny, Mike, and Dave, and when combined, we know the result will be truly unique… and amazing!"
Writer's Note: I miscounted… it's five, not six. Still awesome though!