Not too long ago we reported that Kurt Russell was in talks to join the Fast & Furious franchise. Now, we can pretty much not only confirm it's happening, but show you the first image of his presence in the movie.
Vin Diesel, who has become a spokesperson pretty much on Facebook for all his movies, posted the photo himself on his account with a caption saying, "Kurt Russell, such an honor to work with… P.s. One from set…"  The picture doesn't reveal much except Diesel, Paul Walker, and Russel in suits having a conversation in what appears to be a car garage. Check it out below!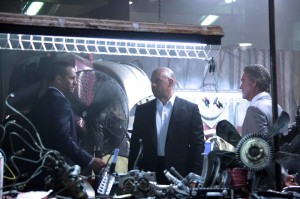 Nothing is officially known yet on what role Kurt Russel is playing in the 7th movie. Some suggest it's a villain, others say it's the father of an old character name Jesse from the first movie. I think it's a villain, reason being that another big actor turned down a mysterious villain role months ago. That guy fellow Renegades was Denzel Washington.
Whether he is actually playing a bad guy remains to be seen. I loved him as Stuntman Mike in Death Proof, so I can totally see him killing a bad guy role here. No matter what, we'll find out this Summer!
Fast & Furious 7 speeds into theaters on July 11th, 2014! The film will feature an all-star cast which includes Diesel, Walker, Dwayne Johnson, Michelle Rodriguez, Jordana Brewster, Lucas Black (Tokyo Drift), Tony Jaa, Djimon Hounsou, Ronda Rousey, Jason Statham, and finally Kurt Russell. It will also mark the first departure from horror for director James Wan, who previously did Saw, Insidious, and The Conjuring.

Source: Vin Diesel Facebook