Once you think Seth Rogen and Evan Goldberg have stopped taking chances, they end up surprising us again. The duo wrote the hilarious stoner-comedy Pineapple Express; had a mediocre stumble as perceived by critics with The Green Hornet; Then made jaws drop everywhere by writing and directing the extremely ballsy apocalyptic comedy, This is the End. So, of course it would make sense for them to do an animated movie, right? Well, it's happening!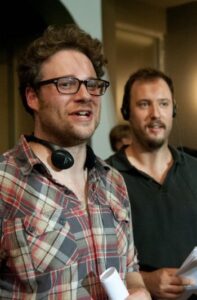 Rogen and Goldberg collaborated on a screenplay, which they plan to produce together, titled Sausage Party. The film is described as an R-Rated animated film about a sausage on a "quest to discover the truth about his existence" and will incorporate "all the irreverent, insightful and risqué R-rated humor we have come to expect" from the two guys. Conrad Vernon and Greg Tiernan will direct the animated feature based on their script. I forgot to mention Jonah Hill has a screenwriting credit as well.
I have a feeling this going to be just as crazy as This is the End. With animation, you can do so much more on a tighter budget, so I expect this to get a little insane. I'm not a big fan of sausage parties, but I might have to RSVP for this one.
What about you? Are you excited to have a Sausage Party with Seth Rogen and Evan Goldberg?
Here is the press release below:
Sony Pictures Entertainment and Annapurna Pictures will partner on what is expected to be an R-rated animated film titled Sausage Party, written by Seth Rogen & Evan Goldberg & Kyle Hunter & Ariel Shaffir, from a story by Seth Rogen & Evan Goldberg & Jonah Hill, to be directed by Conrad Vernon (Shrek 2, Monsters vs. Aliens, Madagascar 3) & Greg Tiernan, it was announced today by Doug Belgrad, president of Columbia Pictures, and Hannah Minghella, president of Production for the studio, and by Megan Ellison.  Annapurna Pictures and Point Grey Pictures are producing.
 
After Point Grey and Annapurna packaged the film and presented it to the studio,  Sony agreed to co-finance it with Annapurna. The film will be produced by Megan Ellison, Seth Rogen, Evan Goldberg, and Conrad Vernon.  The executive producers are Jonah Hill, James Weaver, Kyle Hunter, and Ariel Shaffir.  Nitrogen Studios Canada Inc., in Vancouver, will handle all CG animation, design, production and post-production. Sony Pictures will release the film worldwide and the studio is eyeing a release date in 2015.
 
Sausage Party is a raunchy animated movie about one sausage's quest to discover the truth about his existence. After falling out of a shopping cart, our hero sausage and his new friends embark on a perilous journey through the supermarket to get back to their aisles before the 4th of July sale.
 
Commenting on the announcement, Minghella said, "We're thrilled to be back in business with Seth and Evan.  This project has all the irreverent, insightful and risqué R-rated humor we have come to expect from them. Matching their unique comic sensibility with an animated film is a fun and inspired idea. We are confident Seth, Evan, Conrad and Greg will deliver one of the most memorable animated movies of all time."
  
Rogen and Goldberg most recently wrote and directed the $100 million hit Sony Pictures comedy This Is The End and are currently working on upcoming films The Interview (also for Sony Pictures) and The Neighbors.
 
Andrea Giannetti will oversee the project for the studio along with Minghella. David Distenfeld will oversee the project for Annapurna.
Source: First Showing