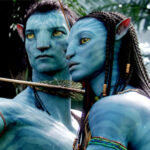 Fans a few days ago damn near shouted with glee over the rumor that Arnold was reuniting with his old pal, James Cameron. The rumor started with Latino Review, as they suggested the Terminator himself was in discussions to play a villain the upcoming sequel for Avatar.
The site said that Arnold was eyed to play "a bad guy human general," possibly taking over where Stephen Lang failed in the first movie. Sadly, a FOX rep has spoken up and said "no," do not expect Schwarzenegger to appear in the sequel. So, for all those expecting a 20 year reunion between Schwarzenegger and Cameron, I'm sorry to disappoint you guys. We have to wait until "Dances With Smurfs" is over.
Is it bad a small part of me actually wanted this to happen? I appreciated Avatar as a fun spectacle but I felt like I was left wanting more after it was over. Not in a good way either. I think  Schwarzenegger could have brought a tremendous energy to the sequel. Plus, this would have brought Cameron's and Schwarzenegger's careers full circle. The first time they worked together, Schwarzenegger was a bad guy in The Terminator. What a perfect way to reunite than to have Arnold terrorize the blue people of Pandora.
What do you Renegades think? Are you disappointed that Arnold Schwarzenegger isn't the villain in Avatar 2?
Source: Variety