Riddick is here…and I hope you all enjoy it. I may actually catch a matinee tomorrow just because I've heard such good things about the first 1/3 of the film. In the meantime, let's get to some other Vin Diesel news…as you all know, the actor has been teasing fans about meetings with Marvel the entire summer, and now it's confirmed that he will be lending his gravelly voice to Groot in Guardians of the Galaxy. But it seems like Diesel has even more inside info to help us spread rumors about.  What did Dom have to say about Phase 3? Here are some excerpts from Conversations with Maria Menounos: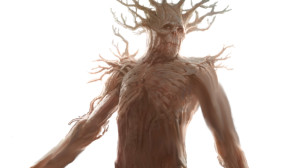 "When I met with Marvel it wasn't for anything immediate, it was to talk about a film that would be introduced in the Phase 3 part of Marvel, not for a few years. You wouldn't be able to see it for a few years. In my mind, Marvel were doing it right, they were enrolling me at the ground level which is the best way to enrole me.
I get the call, I go down to Marvel. A great meeting. It was even talking about something so big I can't even talk about because it's like the merging of brands in a way, which I won't get into. That was something way, way, way, way, way down the road."
But that's not all! The actor continued:
"Marvel talks to me [NOTE: after Marvel telling Diesel not to break any of this at Comic Con] and says "We're going to send something over in two weeks. We want to focus on the 2016 but we also want to, if possible, answer this growing request for something now." I don't have six months to play a character in the immediate future, it's all booked… there was no way I was going to be able to deliver… after Comic-Con, we were at a stalemate…"
And that's pretty much how Diesel landed the role as the voice of Groot. But what do all these statements mean? First thoughts are that Diesel will also land a major live action role in a future Marvel property. Some peeps are hoping all this means that Sony and Marvel will find a way to live and let live, and bring a true version of something like the Sinister Six storyline complete with Spidey to the big screen. Gotta love Diesel though…no matter what you think of the guy as an actor (and this Renegade Reporter feels there's a lot of untapped potential there; will report back after viewing that reportedly stellar first third of Riddick), he loves to keep the fans and press engaged.
Here's the complete interview for those interested. Keep in mind it's about an hour long, so set some time aside!
[fresh_video url="http://youtu.be/Fw4Fg2Y4D2U"]
Source: Bleeding Cool