Back when I started this column, I said we would talk about whatever tickled my fancy in terms of something that's done a pretty banging job monetarily (the Numbers) and comparing/contrasting that property with something equally as valuable in terms of its ability to provoke (the Inspiration). This week, let's talk music.
Why music? Because today is a really exciting day for your truly. September 3rd brings Nine Inch Nails back to the world in the form of Hesitation Marks.
The Numbers –

NIN Up 'til Now (Major Album Releases)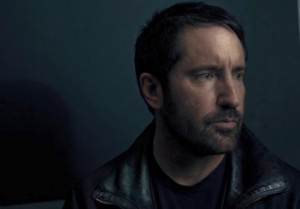 Trent Reznor brought his wicked brand of musical genius to the world in the form of Nine Inch Nails with 1989's Pretty Hate Machine (or for the purists, with Purest Feeling, which was Pretty Hate Machine in a "lighter" (from a mood perspective) demo form until Reznor signed with TVT Records). Inspired by how Prince did his thing when he couldn't find backing musicians worthy to assist record his musings, Reznor performed all of the instruments on the album except for drums in studio and then established a live band when it came time to hit the road, a practice that more or less remains in place until this day. Pretty Hate Machine's opening trifecta of "Head Like a Hole," "Terrible Lie" and "Down In It" are likely still the most popular singles from NIN's debut album; my favorite is "Something I Can Never Have." Pretty Hate Machine peaked at #75 on the U.S. record charts but has since been certified triple platinum.
And then after all the beautiful noise of Pretty Hate Machine came the biggest juggernaut in NIN's backlog (in my opinion and in the court of popular opinion; the follow up to PHM is certified quadruple platinum and peaked at #2 on the Billboard charts)…that's right, The Downward Spiral. A brilliant mix of techno, thump and pump and screeching ballad, The Downward Spiral thrust Reznor and his musical abilities into the forefront of many a musical consciousness with club friendly thumps like "Closer" and near scary tracks like "Mr. Self Destruct." "Hurt" remains the most iconic track on Spiral, and if you doubt my words remember: the Man in Black himself covered the song on American IV: The Man Comes Around. One of the most haunting songs Johnny Cash has ever sung, and a video that still manufactures chills.
After the success of 1994's The Downward Spiral Reznor waited five years before unleashing the double disc The Fragile
onto the masses. At first listen the record seemed a bit uneven, but by the time you got to the third of fourth round the purposefulness of the ebbs and flows of the overall effort become obvious, almost expected. The Fragile hit #1 on the charts with a bang, as did 2005's With Teeth. However, The Fragile attained 2x platinum status while With Teeth was only certified gold in the States; had Reznor's and NIN's power faded slightly? Perhaps, as successive followups to With Teeth, the studio albums Year Zero, Ghosts I-IV and The Slip each hit #2, #14 and #13 on the charts respectively.
One thing to remember during all this seemingly depressing swing back into lower echelons of record sales tracking is the fact that Reznor began experimenting with online versus physical release of his music; Ghosts I-IV was available widely as a free download when it first came out. You've also got to factor in the epic success of NIN's EP and single releases back in the day; fans like myself eagerly sought out copies of the Broken single so we could immerse ourselves in "Happiness in Slavery" and the epic track "Wish." Reznor and his hand-picked band mates also endured in the form of legendary live performances while the front man struggled with addiction before the release of With Teeth. Sounds like your typical Hollywood ups and downs, right?
The Inspiration –

Oscars and Hesitations
In 2009, Trent Reznor decided to take a step back from live performances. On the NIN official website, the auteur indicated that he would continue to release music under the NIN moniker, but that it was time to stop touring. In the live act hiatus, he married singer Mariqueen Maandig and made music with her about How to Destroy Angels. (Their full length album, Welcome Oblivion, is worth checking out if you're an industrial rock fan, as is the preceding EP. While on NIN hiatus Reznor also scored an Oscar for the soundtrack to 2010's The Social Network with Atticus Ross, and also created with Ross the stellar Girl With the Dragon Tattoo soundtrack in 2011, their second collaboration scoring a David Fincher film. Reznor also lent his considerable talents to video game properties like Call of Duty: Black Ops II and …Like Clockwork with Queens of the Stone Age at the helm. He may have been taking a break from touring under the guise of NIN, but nothing could remove the music from Trent Reznor's veins.
And now, in 2013, he and NIN are back as of today with the release of Hesitation Marks. Never one to shy away from the internet as indicated above, the album has been available to stream through iTunes for a little while now. I've listened to it all of once and can only say that the first single, "Came Back Haunted," remains in the forefront of my consciousness maybe because it's the only song I could sing along to thanks to YouTube. But the fact of the matter is that I really didn't want to listen to the entirety of Hesitation Marks more than once, because I can't wait to get done work today, visit my local store (Area Records) and pay a markup for the privilege of securing the latest NIN album in physical form while supporting my town's instrument and music shoppe with my hard earned. Only then will I copy Marks onto my iPod to further bask in the brilliance of a new Reznor creation. How 'bout you? Are you a fan? If so, how will you be listening today? And if you're not a fan, how can I convince you?
Take care all. Hope you had a great Labor Day. We'll talk more next week. Until then, plug in your headphones.