Hello everyone and welcome back to Numbers and Inspiration. Unforeseen circumstances had us missing a debate of dollars and sense last week, but we're back and ready to talk this week with all guns ablazin'. You know what's not really blazing these days? Hollywood. Sure, the summer movie season has been enjoyable, but you had to admit that it also has been somewhat…lacking. Listen, I loved going to the cinema to see movies like Man of Steel, Iron Man 3, and Star Trek: Into Darkness. However, these and many other blockbusters had one thing in common: they didn't really stick the landing. Promising first halves or first and second acts led to disappointing conclusions in most cases. It may be argued that my favorite film thus far this summer, The Conjuring, also suffered the same symptoms, but less than others and for a fraction of a blockbuster budget. Maybe I feel the way I do about seeing the Warrens Rhode Island tale onscreen because I'm a big fan of little movies that do well, or because I really enjoy a good creepy film. Either way, one man's trash and all that. So, instead of debating the summer movie season as a whole, I'd like to break away from movies and talk about books this week. After all, books go just as hand-in-hand with summer as movies do. So in this installment, we'll be discussing Stephen King's son, Joe Hill.
The Numbers

– Hill's Novels
Joseph Hillstrom King was born to parents Stephen (you may have heard of him) and Tabitha King on June 4, 1972. He is the second of three children in the King nuclear family; how awesome would it be to hear some stories from this guys' childhood? (Actually, you can read about various tidbits if you just use your Google-Fu. Sounds like the King household was warm and caring with a side of 'let's tell some creepy stories' mixed in.) The boy appeared at age 9 in Creepshow, which was written by his father and directed by George A. Romero, if that's any indication. Lots of people follow in their parents' footsteps, and Joseph would be no different. The King's are, after all, a writing family, with patriarch Stephen being arguably the most popular fiction author of all time, his wife Tabitha also having published 8 fiction novels and two non-fiction works to date, and younger brother Owen also toiling away as a novelist with his first work having been published this year. However, Joseph King didn't want perception of his lineage to affect his success either positively or negatively. So when he started out, he changed his publishing name to Joe Hill. The misdirection didn't last too quickly but no matter; with the 2013 arrival of NOS4A2 and subsequent works he has established himself as a critical and commercial success. Let's start there first as we discuss the Numbers.
NOS4A2 tells the story of Victoria 'Vic" McQueen, who learns at a young age that she has the ability to travel the unseen roads that link places, time and even dimensions. During her travels among these psychic interstates she encounters Charles Manx, a boogeyman who lives off the energy that only children can provide him by luring them to a place called "Christmasland." Christmasland, as you can imagine, is not where Santa makes his toys, but rather where Manx's vampiric actions turns these children into hollow demonic husks of their former selves. When Vic's son Wayne is taken hostage by Manx, she must use her powers to traverse unseen paths to rescue him. Hill's work in NOS4A2 is somewhat reminiscent of recurring themes that are seen in his father's work. For instance, the subject of substance abuse is very present and looked at with an unflinching eye. One wonders if this is a reflection on what the son may have seen in the father before S. King's intervention and personal rehabilitation. Just a thought; I'm not here to try and psychoanalyze. What else is present and reminiscent of his father's works is a delightfully evil villain, and imagery the likes of which have never been put to paper in Christmasland. So many delicious double entendres exist within Manx's twisted fairytale land that you won't be able to hear certain Christmas music or look at gingerbread houses the same way again. NOS4A2 shows a writer maturing into a horror juggernaut, and peaked at #5 on the New York Times bestseller list, making it Hill's bestselling novel to date.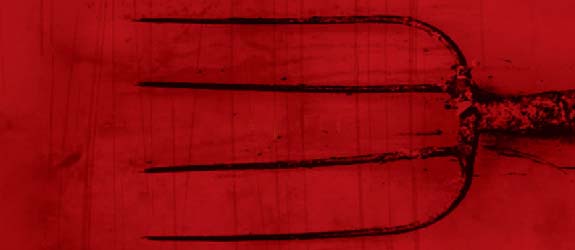 Hill's second novel released in 2010, Horns, tells the story of Ignatius Parrish, who wakes up with an incredible hangover and a pair of horns sprouting from his head. No one else but he can see them, but they have quite an effect on people…it seems that these horns, much like the devil himself, persuade people to convey their darkest, sometimes scummiest feelings, with the byproduct of asking Ig if they should act on them, as if seeking permission from Lucifer himself. This physical transformation also allows the protagonist to see deep into the recessed of others' minds with just a touch. All of this leads to Ig finding out the truth about the murder of his beloved Merrin, an unsolved crime for which he is the prime suspect. Horns is a creative, diabolical novel that gestates with unnerving imagery and challenges of faith that, while overreaching at times, is a great read.
Joe Hill's first novel, 2007's Heart Shaped Box, may be the best novel the author has released of his three so far simply because of its dark humor, skirting references to pop culture (not that Horns and NOS4A2 don't have them), and unforgettable villain. The ghost of Craddock McDermott torments aging rock star Judas Coyne (there's a play on words and concepts for ya) via a purportedly haunted suit that the morbid star has bought from an eBay copycat site. It turns out the ghost with its scribbled black eyes and penchant for otherworldly hypnosis is bent on revenge due to Coyne's discarding his daughter as a lover (of which a the rocker, as you can imagine, has had a steady stream of over the years), leading to her eventual suicide. All this and more unravels over the course of the narrative, leading the reader on a merry-go-round of love and pain, truth and lies, and questions of fame and aging. A rollicking good time, Heart Shaped Box thrust Joe Hill onto the supernatural full length horror fiction scene, topping out at #8 on the New York Times bestseller list. Not bad at all for a debut novel.
The Inspiration

– 20th Century Ghosts
However, it is a lesser-known (well, maybe not now) collection of short fiction that shines the brightest spotlight on Joe Hill's writing prowess. 2005's 20th Century Ghosts highlights the writer's skill, marrying the heart-wrenching with the supernatural. Pop Art, which tells the story of a boy and his plastic, inflatable friend, will transport you beyond any inclination of absurdity given the subject matter to the point of tears. (I consider it one of the finest short stories I have ever read by Joe Hill and most other authors.) You Will Hear the Locust Sing is a smart, unique play on Karka's The Metamorphosis. The title story will make you ponder your own mortality alongside its male lead. The Black Phone will give you chills as a 13 year old hostage hears the voices of previous victims through a mysterious telephone mounted to the wall of his prison. And The Cape you make you long for your younger years, when you dreamt about having the ability to fly. 20th Century Ghosts has won numerous awards, including the Bram Stoker Award for Best Fiction Collection and the British Fantasy Award for the same. Originally released in limited edition formats, the collection is now available in paperback and electronic formats. Do yourself a favor, pick up a copy and get caught up in the dread and wonder of this superb set of tales. Joe Hill's novels are serving to inspire Hollywood as much as they and the stories of 20th Century Ghosts call to the readers and writers present in all of us that have a taste for this subject matter. The rights to Heart Shaped Box were snapped up by Warner Bros. in 2007, although the project remains in limbo. Mandalay Pictures and Red Granite Pictures are planning to adapt Horns for the big screen, with Daniel Radcliffe attached as the lead and Alexander Aja (Haute Tension, Mirrors, Piranha 3D) directing. No word yet on NOS4A2 being developed for film but given the novel's success it's only a matter of time. If you want to be ahead of the Hollywood curve, and are looking for some excellent supernatural fiction to pass the last days of summer with, you would be wise to seek out Hill's work.
Oh, and Joe Hill is also the author of the popular comic book series Locke and Key. But that is a tale for another time.