Well, color me blue. I mean, excited. I mean, interested?
Listen, this Renegade Reporter will be the first person to tell you that Avatar freakin' rocked in the theater. It was a spectacle unlike any other, full of completely realized 3D magic the likes of which my eyeballs had never seen. It also helped that me and the missus don't get out to the movies a lot (based on my film preferences and having little kids, I fly solo a lot), making the experience that much more magical.
And after it made over a billion dollars, we all knew more Avatar films were coming. At least a sequel, we all assumed. Maybe parts 2 and 3 of a trilogy. But apparently, there's more!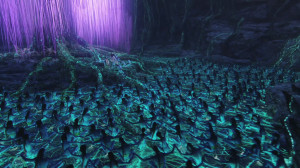 James Cameron and 20th Century Fox just announced that audiences can expect the first Avatar sequel to hit theaters in 2016. And they they're gonna round out the trilogy in 2017. And then they're gonna throw that whole trilogy idea out the window by releasing the fourth film in the quadrilogy in 2018. ?
Will the fourth film slated for 2018 really be a continuation of the storyline established in Avatar, Part I? Can't say for sure, and that's the official answer. If you want more things "official," check out the press release below from 2oth Century Fox:
The three pictures will be filmed simultaneously with production beginning next year. The release of the first sequel will be in December 2016, with the second to follow in December 2017, and the third a year later. AVATAR 2, 3, and 4 will be produced by Cameron and Jon Landau through their Lightstorm Entertainment banner. Like the original film, Lightstorm will work with Joe Letteri and his team at WETA Digital to realize the worlds of the sequels.
Commented Cameron: "Building upon the world we created with AVATAR has been a rare and incredibly rewarding experience. In writing the new films, I've come to realize that AVATAR's world, story and characters have become even richer than I anticipated, and it became apparent that two films would not be enough to capture everything I wanted to put on screen. And to help me continue to expand this universe, I'm pleased to bring aboard Amanda, Rick, Shane and Josh — all writers I've long admired -­ to join me in completing the films screenplays."
Commented 20th Century Fox chairman and CEO, Jim Gianopulos: "We at the studio
have no higher priority, and can feel no greater joy, than enabling Jim to continue and expand his vision of the world of AVATAR. The growing breadth and scale of Jim Cameron's plans for his magnificent fantasy worlds continue to amaze us all."
Screenwriters Rick Jaffa and Amanda Silver (Rise of the Planet of the Apes — great, great film) and Josh Friedman (The Sarah Conner Chronicles — he should be getting paid cash money to bring that show back instead of working on this) have been tapped to help Cameron realize the expanded worlds of Avatars 2 through 4. Interesting developments, to say the least. And while I may moan and groan a bit about the somewhat weak story of the original, if Cameron and company continue to innovate with respect to effects and the cinema experience, my butt will be in the seat for each installment.
Source: io9