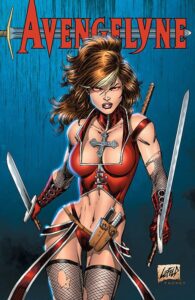 In some fun Comic-Con 2013 Gina Carano news, the MMA practitioner and budding action star has signed on to play Avengelyne, a scantly clad warrior who kills demons. The character was co-created by Rob Liefield, who was a rock star in the comic book world in the early 90's with his work on X-Force, going on later to co-founding Image Comics along with comic gods Jim Lee & Todd McFarlane.
Women action heroes were few & afar for quite a while. In the 80's & 90's all we really had was Sigourney Weaver & direct-to-video ass kicker Cynthia Rothrock. Cynthia was the real deal, but never rose to major prominence and I'm pretty sure I'm the only person in 2013 who knows her name. Which is a shame.
However, in this day we've got ourselves a pretty strong guild of female action stars.  Woman like Michelle Rodriguez, Milla Jovovich, and Kate Beckinsale have been doing plenty for their sex in the name of kicking ass, so Gina is going to be in some good company, if not some healthy competition.
Let's just hope it ends up being more her Alien than her Bloodrayne.
SOURCE: Ain't It Cool News