Let's talk fish.
Yes, you read that right. This week's Numbers and Inspiration  is taking a break from superheroes, zombies and fast cars to contrast, compare and honor properties equally as geeky, and no less loved – a stellar Pixar film that made a mint at the box office and monetary impacts to DVD shelve budgets everywhere (the numbers) and a fascinating, somewhat under-appreciated documentary about a sushi master whose utter dedication to his craft is revelatory, honorable and immensely thought-provoking (the inspiration). Let's examine the blockbuster Finding Nemo and the critically-acclaimed but still under-the-radar Jiro Dreams of Sushi.
The Numbers

– Finding Nemo
Finding Nemo has a special place in my heart, and always will, because it's one of the first movies I ever watched with my kids that held their attention for (nearly) the entire running time. Maybe it was the bright colors, or the colorfully bright characters that captivated them. Either way, we find ourselves revisiting the film here and there, and it's always a guaranteed home crowd pleaser for the children and their folks alike. And like most Pixar films, it's a story that will grow with them as they age; aspects of parenthood, friendship, neuroses ("I am so ashamed!" cried Jacques upon realizing how hard it is to combat his inherent compulsions as a French cleaner shrimp) that are "over their heads" now will become appreciated in time…like the rest of Pixar's best, there are new joys and moments of sad tenderness to realize as one ascends each rung of the generational ladder. There's a reason that the Mouse Corp. paid a pretty penny for the animation studio, and one of them (the Cars franchise notwithstanding – sorry, I just can't seem to get into those flicks) is the creativity and timelessness embedded in the works that Pixar brings to the screen.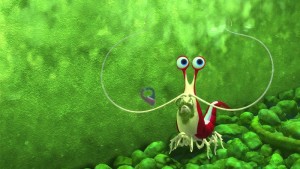 The other reason, of course, is business related. Pixar films perform very well at the box office, and while other animation studios like DreamWorks and Illumination Entertainment are closing the gap in terms of quality and ticket sales, Pixar is still the cream of the crop. Consider this: the lifetime gross of Finding Nemo (domestic + foreign) in "native 2D form" is almost $922M USD. Last fall, a 3D converted version of the film was rolled out and scored another $41M domestically. So, the total becomes almost a billion dollars for a film that cost about $94M to make. Add some on top of that for marketing and 3D conversion, and you still have an extremely satisfactory return on investment. The fact that it's a great film for kids and adults alike reinforce these numbers.
So it's no surprise that we'll be treated to a sequel in a few years. Finding Dory is set for release at the end of 2015 and will follow a similar path as that of its predecessor. This time, instead of looking for Nemo, the gang will be helping out Dory, the enigmatic, endearing and occasionally amnesiac Pacific regal blue tang voiced by Ellen DeGeneres. I say "the gang" because it has been confirmed that all of our favorite fish will be returning for the sequel. The only character in doubt? Our beloved Jacques, as his voice actor Joe Ranft passed away in 2005. However, given the scene stealing nature of the cleaner shrimp, I'm sure the folks at Pixar will find a way to keep Jacques in the mix while paying homage to the actor who so confidently infused him with personality.
And if this column is still around in a few years, Finding Dory may become one of those single shot deals that uses
the same property to discuss both dollars and sense. Because by then, the kids will be able to go to the theater with (hopefully) a minimum of fuss, and this occasion will be a time to share my love of theater going with them. I look forward to seeing that huge screen through their eyes, to capture the wonder that a young person feels when looking upon what is to them larger than life entertainment.
As long as they can handle any gigantic grinning sharks or other toothy creatures of the deep. Come to think of it, that's why we didn't go see the 3D re-release last year.
The Inspiration

– Jiro Dreams of Sushi
To be honest, the reason that Finding Nemo is the numbers part of this week's column is because I needed a companion piece for Jiro Dreams of Sushi, a film I finally caught on Netflix streaming that I found hugely entertaining, insightful and moving; hence the reason for sharing some thoughts about it with you today.
The Jiro of title is Jiro One, a master sushi maker and owner of Sukiyabashi Jiro, the famous sushi restaurant in Toyko. What's amazing about this sushi establishment is its size, location and notoriety. It is in the basement of an office building in Ginza, seats only ten customers at a time in a bar top setting, and is famous the world over. Oh, and the cost of a typical meal starts at about 30,000 yen, or $300 USD. Reservations only.
So, why is Jiro and his restaurant so famous? Why do people come from all over the world to pay so much for his sushi? It has a lot to do with the fact that the man has spent over 75 years perfecting his art, becoming a shokunin – a craftsman who has become a master of his chosen trade through repetition. Jiro's sushi is the best because the man chooses to believe that he has not yet (and never will) perfect his sushi making. The fish is meticulously picked from the best in the market, fresh every day. The rice is cooked to perfection and sourced specifically and uniquely for the restaurant. Octopus is massaged for hours at a time to make it supple and succulent rather than tough as one is wont to find in many American establishments. Simply put, over the course of his lifetime, Jiro has done nothing but make sushi, a stance that he maintains proudly. Says Jiro:
"Once you decide on your occupation… you must immerse yourself in your work. You have to fall in love with your work. Never complain about your job. You must dedicate your life to mastering your skill. That's the secret of success… and is the key to being regarded honorably."
Of course, such dedication comes with a price. The child of a somewhat unsavory childhood himself, he now jokes
with his eldest son Yoshikazu, who works in his father's restaurant, awaiting Jiro's retirement so he can take over the business, about being absent so often when his boys were growing up that they would claim a stranger had entered their house when he arrived home early at 10 p.m. some nights. It sounds fine, and Yoshikazu laughs along dutifully, but the viewer can sense an underlying grief there. And of course there's more familial strain when we learn the Yoshikazu's younger brother Takashi has been tasked with opening his own sushi restaurant in Roppongi Hills rather than also serve under his father at Sukiyabashi Jiro. Such is the way of Japanese tradition: the eldest sibling must stay to take over the family business, while the younger may be free from his father's tutelage to follow his own path, even if it is along the same general route. The interviews with father and sons are candid, enlightening, sometimes sad and always fascinating.
There's much more to Jiro Dreams than I've listed above, all of it equally fascinating. You will learn the inner workings (not all of them; after all, there are still trade secrets to guard) of perhaps the most famous sushi restaurant in the world. You will also learn about Japanese traditions and familial and workplace honor upon viewing this film. Most of all, if you're like me, you'll be captivated by the 85 year old man (at the time of filming) who wants nothing more than to continue with his life's work some 75 years in, so much so that you believe that he still dreams of new methods of preparing and presenting sushi. I greatly appreciate the idea of Jiro's commitment and work ethic, and marvel that someone could be so dedicated to his craft. I'll probably never be able to taste the shokunin's sushi, but I too can dream of it. Watch Jiro Dreams of Sushi (once again, available on Netflix streaming) and tell me if you agree. I went in thinking it would be just about sushi, but this documentary taught me about so much more.
Thanks for reading. See you next week.