Despicable Me 2, the sequel to the fantastic original movie about an evil master criminal and his villainous Minions, won the important Independence Day box office weekend. According to Yahoo Finance on July 7, the animated sequel won the weekend with a $142.1 million five-day take and $82.5 million over the weekend itself.
When Jerry Bruckheimer and Disney made The Lone Ranger and set it up for the big Independence Day weekend, they must have thought it would be a huge hit, especially with Johnny Depp leading the way. However, a bloated running time and lackluster reviews seemed to doom it. The Lone Ranger made $29.4 million over the weekend and $48.9 million over the five days, while costing an estimated $225 million to make.
Check out the Renegade Cinema reviews for The Lone Ranger here and Despicable Me 2 here.
"You think that you have everything in place," said Dave Hollis, head of distribution for Disney. "Even when you have all the ingredients for what you think will be a four-quadrant, 'everybody' picture, sometimes it doesn't work out that way."
It seemed that a lot of people liked The Lone Ranger, giving it a decent "B+" CinemaScore, which is based on reactions from audiences leaving the screenings. However, at 2.5 hours in length and a very schizophrenic theme, bouncing between slapstick and violence, critics panned the movie and families stayed away during the holiday weekend.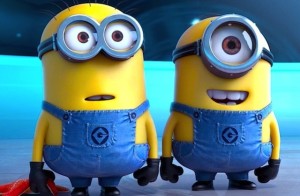 However, Gru and his Minions were able to capture audiences attention, once again.
"The minions steal everybody's heart," said Nikki Rocco, head of distribution for Universal. "It's a great time of the year to release a family film with broad appeal."
Here is the full list of the Top 10 movies for Independence Day weekend.
1. "Despicable Me 2," $82.5 million.
2. "The Lone Ranger," $29.4 million ($24.3 million international).
3. "The Heat," $25 million.
4. "Monsters University," $19.6 million.
5. "World War Z," $18.2 million.
6. "White House Down," $13.5 million.
7. "Man of Steel," $11.4 million.
8. "Kevin Hart: Let Me Explain," $10.1 million.
9. "This Is the End," $5.8 million.
10. "Now You See Me," $2.8 million.