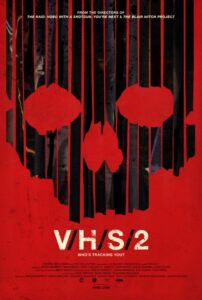 Directed by:
Simon Barrett (segment "Tape 49")
Jason Eisener (segment "Slumber Party Alien Abduction")
Gareth Evans (segment "Safe Haven") (as Gareth Huw Evans)
Gregg Hale (segment "A Ride in the Park")
Eduardo Sánchez (segment "A Ride in the Park") (as Edúardo Sanchez)
Timo Tjahjanto (segment "Safe Haven")
Adam Wingard (segment "Phase I Clinical Trials")
Written by:
Timo Tjahjanto (story) (segment "Safe Haven")
Brad Miska (concept: anthology concept)
Simon Barrett written by (segments "Tape 49" & "Phase I Clinical Trials")
John Davies written by (segment "Slumber Party Alien Abduction")
Jason Eisener written by (segment "Slumber Party Alien Abduction")
Gareth Evans written by (segment "Safe Haven")
Jamie Nash written by (segment "A Ride in the Park")
Eduardo Sánchez screenplay (segment "A Ride in the Park") (uncredited)
Timo Tjahjanto written by (segment "Safe Haven")
The Review
It's not always easy for a critic to judge an anthology film as a whole. Depending on the movie, making such a project can lead to a mixed bag of terrible and terrific segments. No matter what though they are fun as hell because you're never quite sure what the movie will bring next. So, was the case with the first V/H/S back in 2012. The movie definitely had weaker segments in the offering but the great moments were truly inspired and terrifying. Now, close to a year later, V/H/S/2  has arrived to frighten the found-footage masses once again. This time with a whole new set of directors and stories that make the first seem like a Nickelodeon special.
The new story revolves around a private investigator named Larry who is hired by a mom to track down her son Kyle. He and his partner Ayesha head to a house where Kyle is suspected to be hiding out at. When they get inside, they find a mysterious set of televisions in a room setup just how they were in the first film. Also, once again, VHS tapes are scattered everywhere with no labels. Larry tells Ayesha to look over the tapes for any leads while he searches the house for Kyle. He leaves her behind and she inserts the first tape into the VCR. Thus, the fun begins!
The first segment Phase 1 Clinical Trials isn't exactly the strongest opening but it serves as an appetizer to the bigger servings to come. In this segment, we have a man who is the guinea pig of a new experimental prosthetic eye. Inside the eye is a camera that allows his doctors to see how the new eye works. This also allows us the audience to take a scary ride from a first person perspective. The new eye works wonderfully but it has one major side effect… It picks up frequencies of the dead. This one isn't my favorite but it's a fun spook ride full of jolting moments from the view of someone who is being chased by ghosts.
The next segment A Ride in the Park gets a bit more interesting. This short involves an interesting take on the ideas of zombies. Here we have a guy who is riding a bicycle through a woods/ park area. He wears a helmet-cam as he ventures through the trail at a high speed. That is until a woman covered in blood comes screaming from nowhere begging for help. Soon as he stops for her she explains she was attacked and bit by someone.  Before too long she drops to the ground and begins vomiting a strange substance, When the biker goes to help her, she turns around and attacks him by taking a chunk out of his neck. This is where the segment reveals its cleverness because we are about to get a first person experience of a zombie's afternoon. The biker soon turns and begins to wreak havoc on park inhabitors. I don't want to spoil the rest but I greatly enjoyed the direction this segment took. Fun fact: This segment was made by the same guys who gave us The Blair Witch Project.
Then comes the juiciest segment of the entire V/H/S/2 serving, which comes from rising talented director, Gareth Evans. For those who remember, Evans is responsible for the high-octane actioner from Indonesia known as The Raid. Here, Evans shows his diversity with a crazy intense segment titled Safe Haven. The short focuses on a group of film-makers working on a documentary about a local cult. The segment begins with the crew asking the founder of the cult– known as "father"– if they can visit the location to document the cult environment, as well as the children to ease community concerns. As you expect, once they arrive, moments later, sh*t hits the fan quickly. The entire sequence is shot from their documentary equipment or hidden cameras on their clothing. Safe Haven is my personal favorite in this movie and proves that director  Gareth Evans is a force  of nature to be ready for.
Finally, we arrive to the final sequence in this anthology and the most fun in my personal opinion. I've heard various complaints about this entry but this is exactly how I've always pictured an alien abduction to happen. Loud, confusing, and scary as hell. Slumber Party Alien Abduction is directed by Jason Eisner who is responsible for the hilariously violent grindhouse effort, Hobo with a Shotgun. The story revolves around a group of youths that are left alone at their lake house for the weekend after their parents leave for vacation. Once alone, a series of strange occurrences begin happening. Night falls, and weird lights are glowing in the far distance on the lake but the group shrugs it off. Soon later, grey humanoids begin capturing each teenager one-by-one. The use of light and sound during this sequence I found to be quite effective in heightening the tension. Slumber Party Alien Abduction is not the best of the mix but it's a pleasant addition to the fun.
One of the major issues with the first V/H/S is they tried to cram too much into their runtime and not giving the shorts enough room to flex their muscles. In the sequel, all this is corrected with a shorter selection of stories and higher quality offerings. This sequel is a shining example of , "Less is more." Not to mention, the film-making line-up is a leap in quality as well. The first had a few recognizable names but this sequel has a seriously talented roster. Gareth Evan's contribution alone makes V/H/S/2 worth the ride.
As a sequel, V/H/S/2 is a worthy follow-up, and as an entry into horror-anthologies, it delivers the perfect bag of scares for every occasion. There is a genre for just about every popular horror fan in this bad boy.