Today the BBC announced that Matt Smith, the current star of the long-running sci-fi series Doctor Who will be leaving the role at the end of this year. Smith has portrayed the role for over four years, and in that time the show has grown to become even more popular.
The role of The Doctor is a unique one in entertainment. The character is in an immortal alien from the planet Gallifrey, and is capable of regenerating into a new body after every near-fatal injury. This allows the producers to recast the role whenever an actor leaves. Smith took over the role from David Tennant, one of the most popular and beloved versions of the character throughout the fifty-year-old franchise.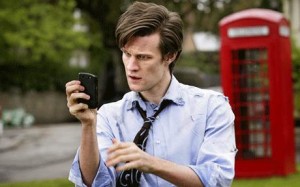 When Smith was first hired in the role of The Doctor, he was only twenty-six years old, making him the youngest actor to play the role of the Doctor yet. In 2011, he also became the first and only actor to have been nominated for a BAFTA in the role, and he also won the award for the most popular male drama award for the National Television Awards in 2012.
Smith will be appearing alongside his predecessor David Tennant in the Doctor Who 50th Anniversary Special on November 23 of this year, as well as the 2013 Christmas Special, but it sounds like that will be the last time we'll see him wear the bow-tie.
Speaking as a very new Doctor Who fan, I'm feeling very mixed about this news. I'm only in the third season right now, but I have seen Matt Smith's debut episode and I was shocked by how much I loved it. His version of the Doctor is just as good, if not better than Tennant's. He's capable of being funny, charming, heart-warming, and inspirationally brave. I've been planning on writing a Heroic Profile of The Doctor for Most Heroic, but I'll have to do it in several installments so that I can give each incarnation their due.
It really makes me sad to hear that he won't be continuing the role, but I can't blame him for deciding to quit while he's ahead.
What do you think of Matt Smith leaving the role? Do you think it's time for him to turn in his sonic screwdriver, or would you want him to stick around for some more fish custard? What did you think of his time in the TARDIS? Why don't you just tell us what you think in the comments below?
Source: BBC