Marvel Comics have announced that they will be releasing a new line of trade paperbacks collecting huge portions of classic stories, which will be called the Marvel Epic Collection. These new collections will be in full color and offered at a relatively affordable rate. The price will be $35-$40 for these books, but considering they'll have around 450 pages, that's a pretty good option.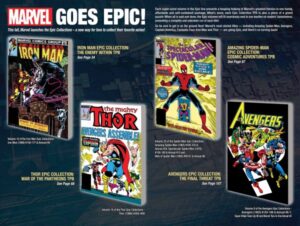 Here's the press release.
Each super-sized volume in the Epic line presents a heaping helping of Marvel's greatest heroics in one handy, affordable and self-contained package. What's more, each Epic Collection TPB is also a piece of a grand puzzle: When all is said and done, the Epic volumes will fit seamlessly next to one another on readers' bookshelves, presenting a complete and unbroken run of each title!
Some other fans have already compared this new format to Marvel's "Essential" line of paperbacks. The Essential line was a compilation of the classic eras of the books, covering every issue that was printed. The only difference to this new Epic Collection lineup is that the stories will be in full color, as opposed to the black and white printings that was a hallmark of the Essentials line.
I've actually gotten to read several of the old Essentials line over the years. My school library owned the second and third volumes of the Essential Fantastic Four which covered the classic run from Stan Lee &  the great late Jack Kirby. I absolutely loved them and I'd love to see other classic stories collected in larger format.
What do you think the Marvel Epic Collection idea? Do you think the idea will end up being as "Epic" as they want it to be? Why don't you just tell us what you think in the comments below?
Source: Comic Book Resources